Spinomenal : Grand Holidays Tournament 2022
🏆 Spinomenal Dice Slot Tournament 🏆
Try your luck in the Spinomenal Grand Holidays Tournament now and win your share of the €500,000 put into play for this unique event!
💵 Stake: €0.20 minimum stake required per spin
💎 Duration: From 08/31/2022 00:00 to 01/10/2023 23:59
💎 Tournament games:
Glowing Fruits Dice
Joker Madness
Irish Lucky Charm
Dice of Charm
40 Spinning Dice
Book Of Rebirth Dice
Wild Santa Dice
100 Spinning Dice
How to register for this Spinomenal tournament?
How to play? It's simple because no specific registration is required for this phenomenal tournament.
Indeed, as soon as you start a game on the participating games (details above), you will earn points for each €1 won during your game. For example, if you bet €1 and win €10 on the Wild Santa Dice game, you will earn 10 Spinomenal points.
Available games for the Spinomenal tournament

Details about the different tournament rounds
The Spinomenal tournament will take place from August 31, 2022 to January 10, 2023 with one round per week, i.e. 19 rounds in total.
Each week a prize pool of €15,000 or more (see below) will be put into play for your greatest pleasure!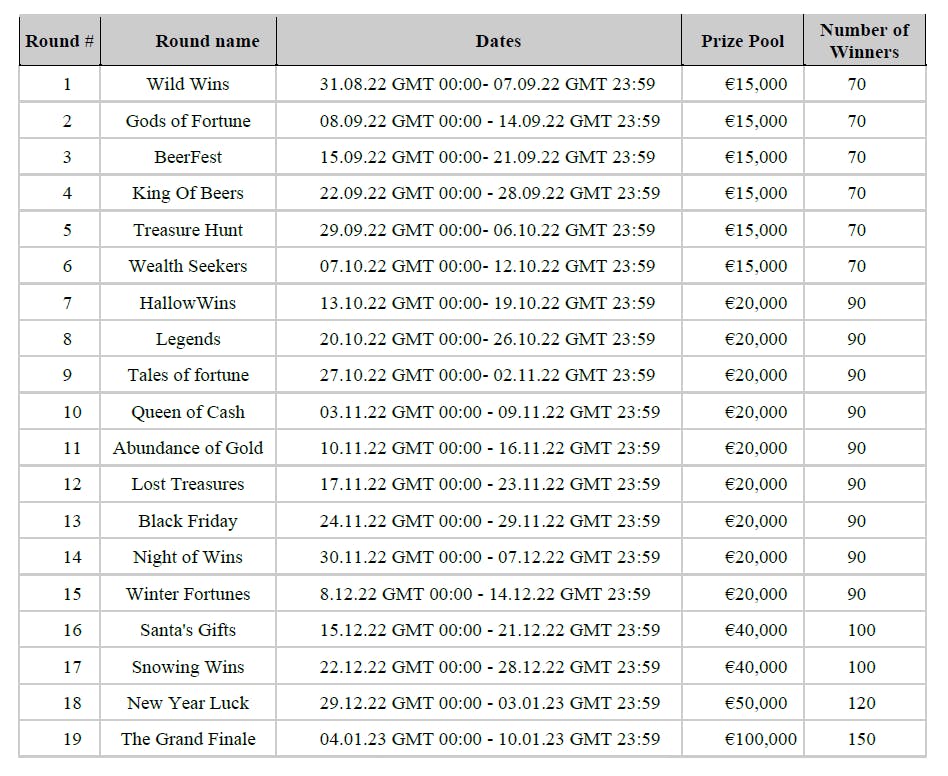 Rules for the Spinomenal Grand Holidays Tournament
➢ 10% of each player's score in each round of the tournament will be collected as credit points and added to the player's score in the final round (round 19).
➢ Each player's rank in the leaderboard for each round will appear once they reach the qualifying score, as shown on the player toolbar.
➢ The Tournament is available during real money play only.
➢ The minimum qualifying bet per round to participate in the Tournament is 0.2 EUR ("Minimum qualifying bet"). If the minimum qualifying bet is not available on any of the participating games, the next highest bet amount will constitute the minimum qualifying bet for that game.
➢ No deposit or additional cost by Players is required to participate in the Tournament.
➢ Participation in the Tournament is automatic once a Player has wagered at least a Minimum Qualification Bet in one of the participating Games. By qualifying for the Tournament and playing the games, each Player agrees to these terms and conditions and all other terms and conditions established by Luckygames.
➢ Malfunctions and errors may void all games and payouts.
➢ If two or more players have the same number of points at the end of each round, the player who reached the points first will be ranked higher.
➢ Only completed rounds will qualify for the ranking.
Good luck, have fun and play in moderation.