Review of Synot Joker 5 Dice dice slot game
Going back to basics is what led to the creation of this slot machine at Synot. Call it simple… or genius in its simplicity. 3 reels, 5 paylines, classic fruit symbols, a star and a leader, discover Synot's Joker 5 Dice.
How to play Joker 5 Dice?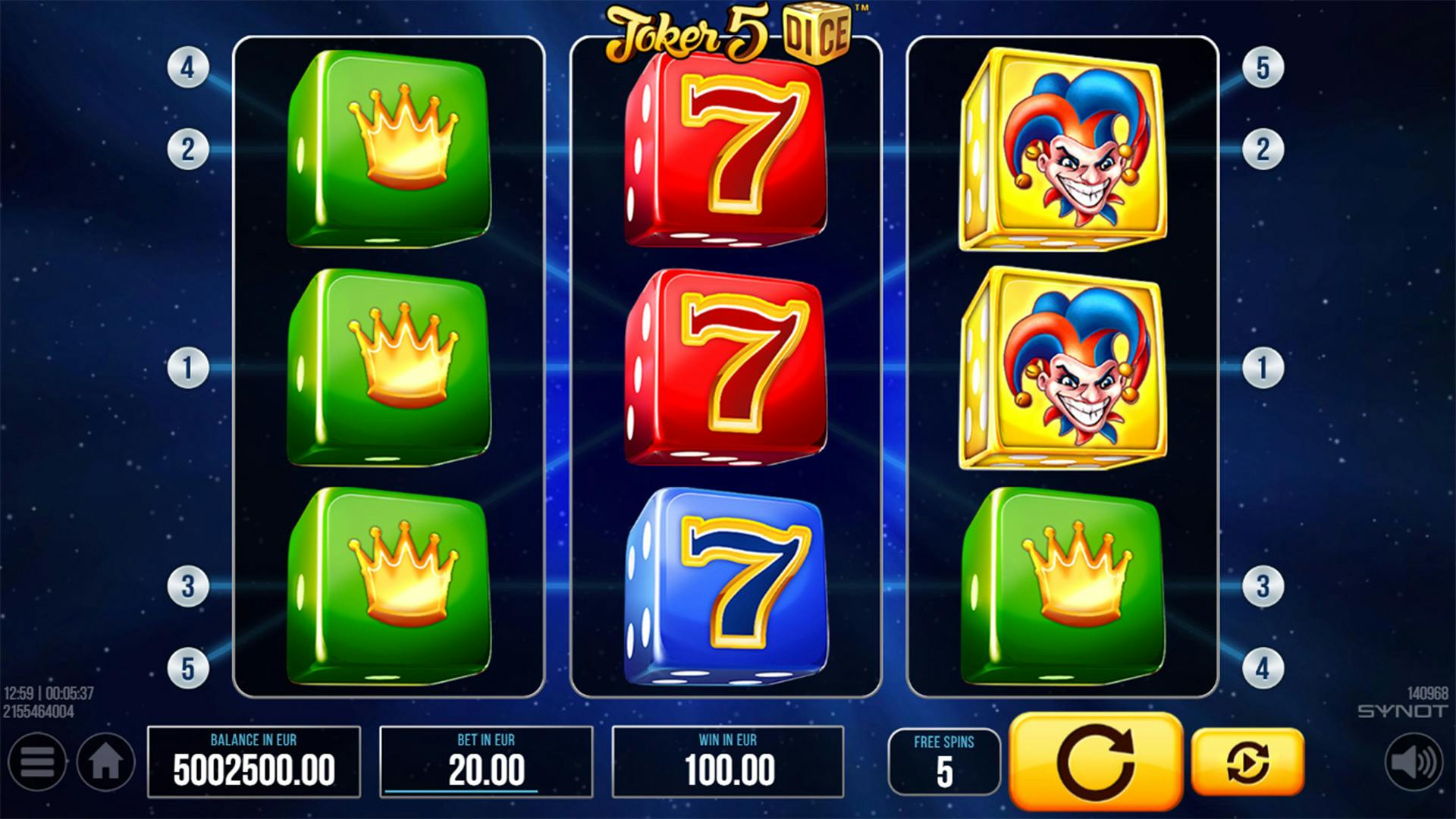 Choose your bet using the BET control on the game panel then press the ROLL button to play the current bet.
In the event of a win, the amount won is displayed in the WIN field.
Joker 5 Dice Game Rules
Synot's Joker 5 Dice is a 3-reel video slot featuring WILD and SCATTER symbols that provide free spins.
The game has 5 fixed paylines and winnings are paid from left to right.
Catter symbols pay on all screen positions but only the highest win is paid per active payline.
Scatter wins are added to the payline wins and accumulated.
WILD Symbol and Free Spins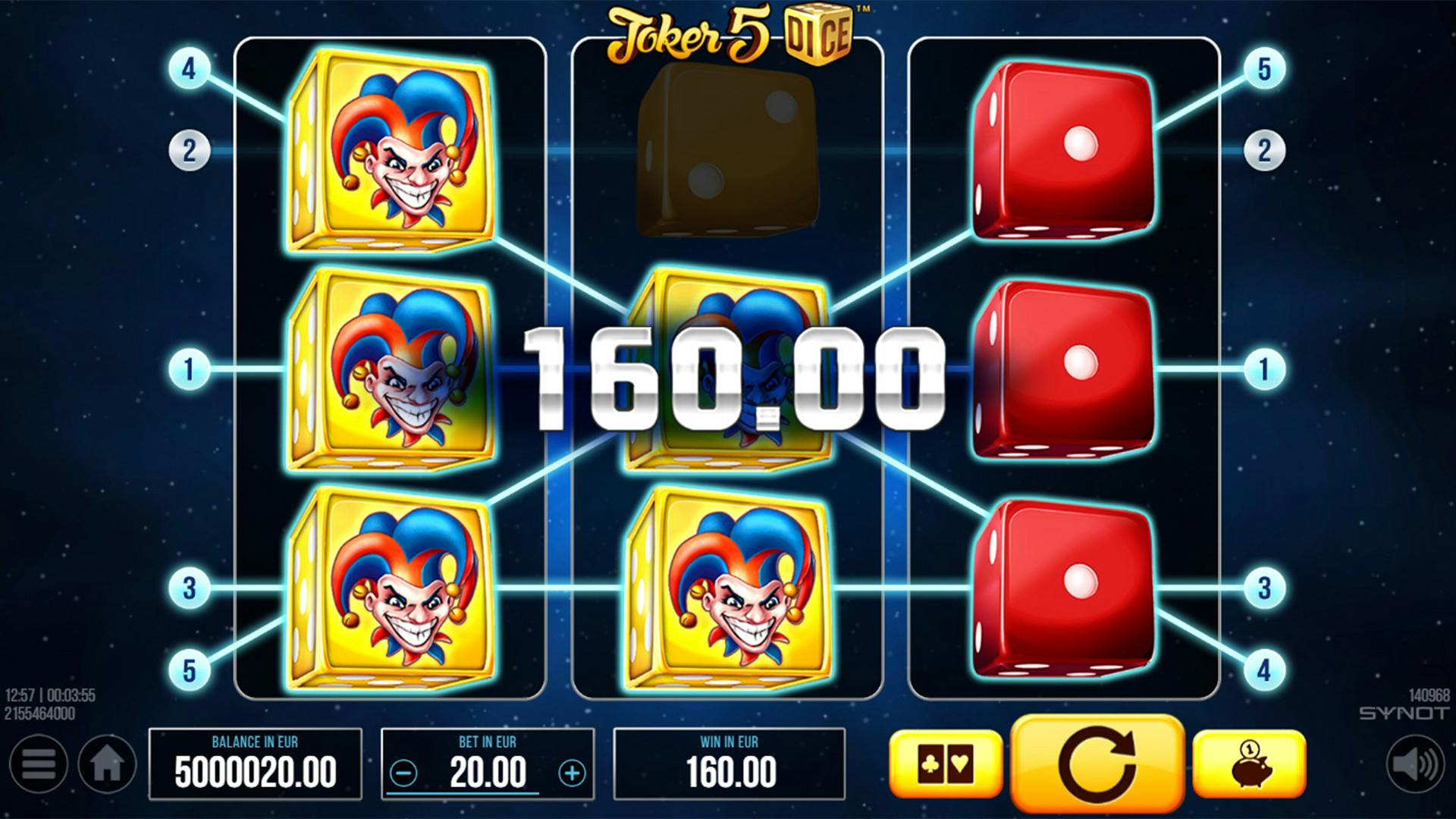 The WILD symbol substitutes for all symbols on all paylines except the scatter symbol on this Synot game.
When 3 SCATTER symbols appear anywhere on the reels, 10 FREE SPINS are awarded.
Free spins can be triggered again during the bonus, granting even more free spins.
Free spins are played at the same stake that activated them, the Free Spins feature uses different reels from the base game.
Bet your winnings?
You have the possibility of winning a maximum amount of €12,500, the betting function allows you to potentially increase your winnings tenfold.
You will have to choose a card by guessing what the next card color will be.
When you guess the correct color, your win is doubled. If you choose the wrong color, you lose your win and the BET function ends.
Particularity on Synot
You can opt for a reduced stake when betting your winnings, in fact you have the HALF option to credit half of your balance and put the rest into play in the bet function, interesting isn't it?
10 chances to multiply your winnings, the joker replaces any color.
The Synot Progressive Jackpot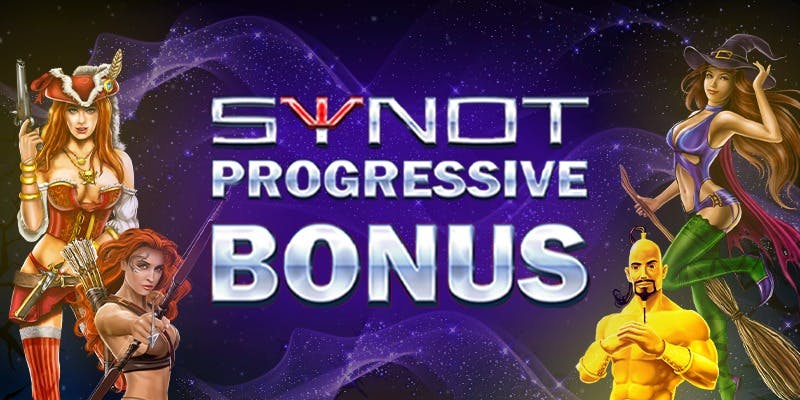 Synot games have a 4-level progressive jackpot, each level is represented by a symbol: DIAMOND, GOLD, SILVER and BRONZE.
Each bet played increases the value of the progressive jackpot levels, calculated on the basis of a percentage. No additional amount will be withdrawn from you to participate!
The jackpot is triggered randomly as soon as the winnings have been collected at the end of a single game. Triggering a JACKPOT guarantees a win on one of the progressive levels.
You will be taken to the JACKPOT reel, spin it to win one of the 4 jackpot levels. The higher the bets, the higher the chances of triggering the jackpot feature!
Once a jackpot is won, it resets to its new value.
Jackpot amounts won cannot be bet using the BET function.
Synot Joker 5 Dice in numbers
Type of game: dice slot
Redistribution rate: 94.78%
Number of rolls: 3 rolls
Winnings: 5 paylines
Minimum bet: €0.10
Maximum bet: €25.00
Maximum win: €12,500.00
Progressive Jackpot: Yes, 4 levels