Play Infinity Dice? Discover the rules and the best strategy
Line up three identical symbols, horizontally or diagonally: this is the basis for playing Infinity Dice. It is therefore a very simple game, but so chic! And to top it off, this dice game allows you to win impressive prizes. Discover the game rules and the best strategy.
A luxurious dice game
With its luxurious cachet, gleaming dice and refined effects, Infinity Dice propels you into the opulence and splendor of a real casino. But rest assured, the adventure you are embarking on is not very difficult!
Set your bet using the corresponding button.
Click "Start" to play Infinity Dice.
Place the column of three dice in one of the four game grids (the proposed grid lights up).
Score points by lining up three identical symbols horizontally or diagonally.
Activate the bonus feature by aligning three Infinity Bonus symbols. You will recognize these special dice by the "infinity" symbol (8 lying).
One bonus, five chances
The bonus part allows you to win a sum of money, a number of points or – the key to accessing the highest gain – fifteen Mystery parts.
You have five chances; the result of the last spin is taken into account.
Accept your reward or try again. Yes, you understood correctly: you can refuse the result that does not satisfy you.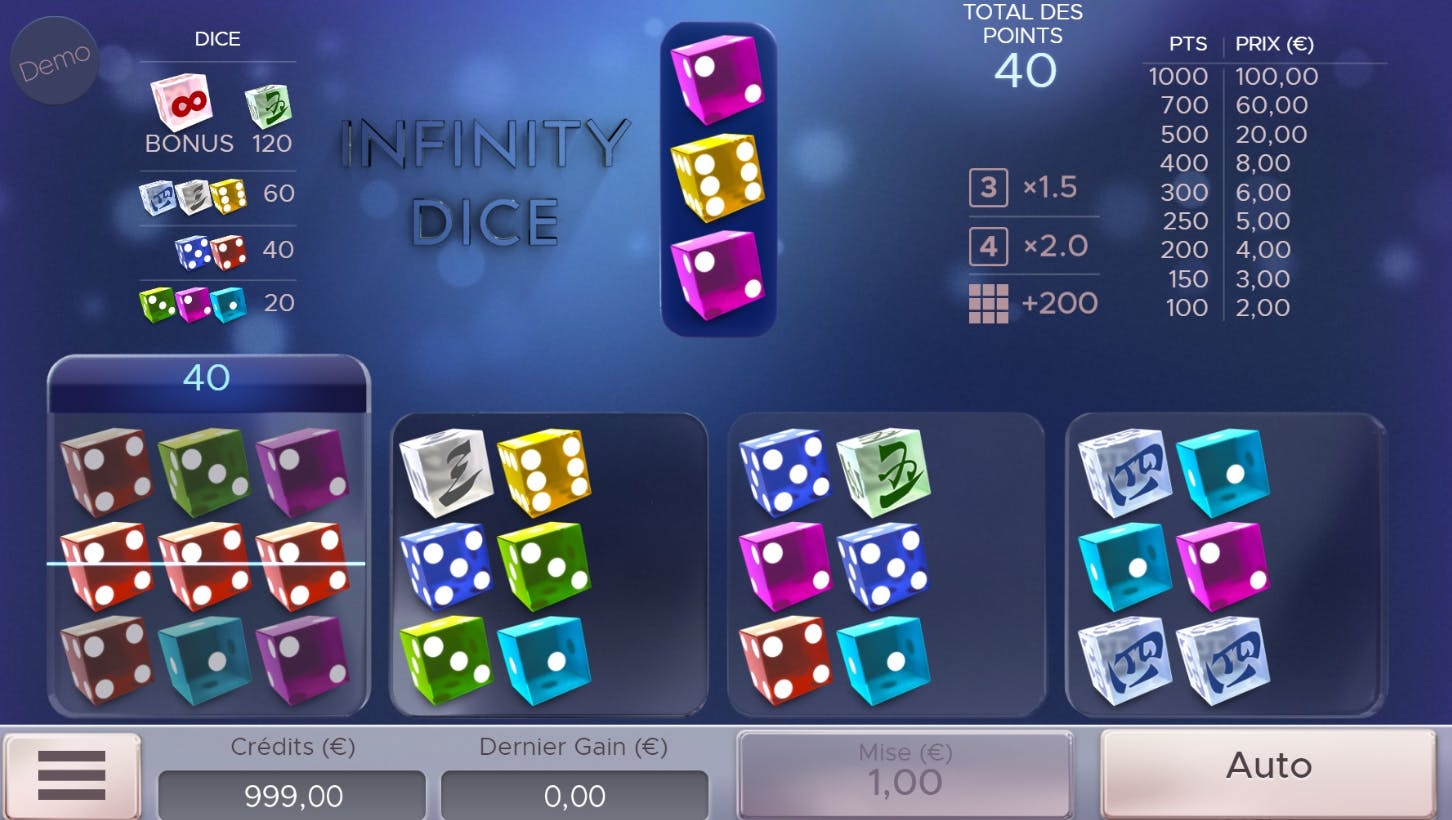 Tips for playing Infinity Dice
Use the in-game help to know what to expect.
Make sure you know the value of each die. The pink die will only earn you 20 points; the green die, with its Chinese pictogram, is worth no less than 120 points.
Try to make as many combinations as possible. If you get points in three grids, you win 1.5 times your score; your score is doubled if you score points in four grids.
Above all, don't forget to enjoy: the chic atmosphere guarantees you a 100% relaxing experience.
Play Infinity Dice on Lucky Games
So, ready for a game of Infinity Dice? Place your bets with Lucky Games! We recommend that you practice with a demo version before embarking on the adventure.