Golden apples on the Amusenet Apple Dice
The Apple Dice video slot from Amusenet is a 5-reel, 5-fixed payline casino game.
Apple Dice has 11 symbols including 1 Expanding Wild and 2 Scatters.
All winning combinations are paid from left to right, except for scatters.
Collect as many wild apples and scatters as possible in the new diceslot game from Amusenet and try the jackpot cards!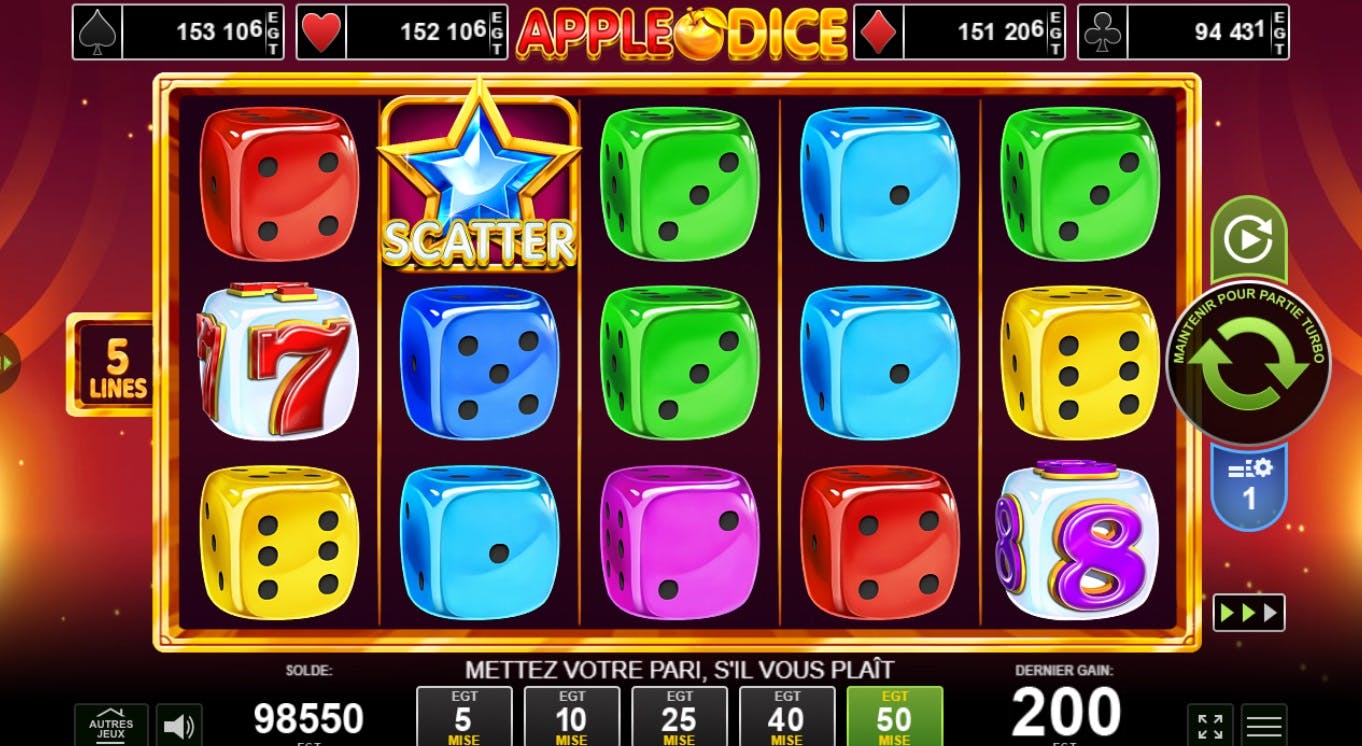 Apple Dice Special Symbols
The WILD APPLE symbol on the 2nd, 3rd and 4th reel replaces all symbols on the same reel except the 2 SCATTER symbols.
The STAR scatter symbol grants a fixed win as soon as you get 3, 4 or 5 in the same game.
The LOTUS FLOWER scatter symbols anywhere on the 1st, 3rd and 5th reels awards the equivalent of 1000 points!
Apple Dice Bonus Round
During the base game you can receive a certain number of bonus rounds for free, these rounds will not be deducted from your game balance.
The value of the bet and the number of lines in BONUS GAME mode are predetermined and cannot be modified during play.
During Bonus Game mode, the JACPOT CARDS feature cannot be triggered and there is no contribution to game levels.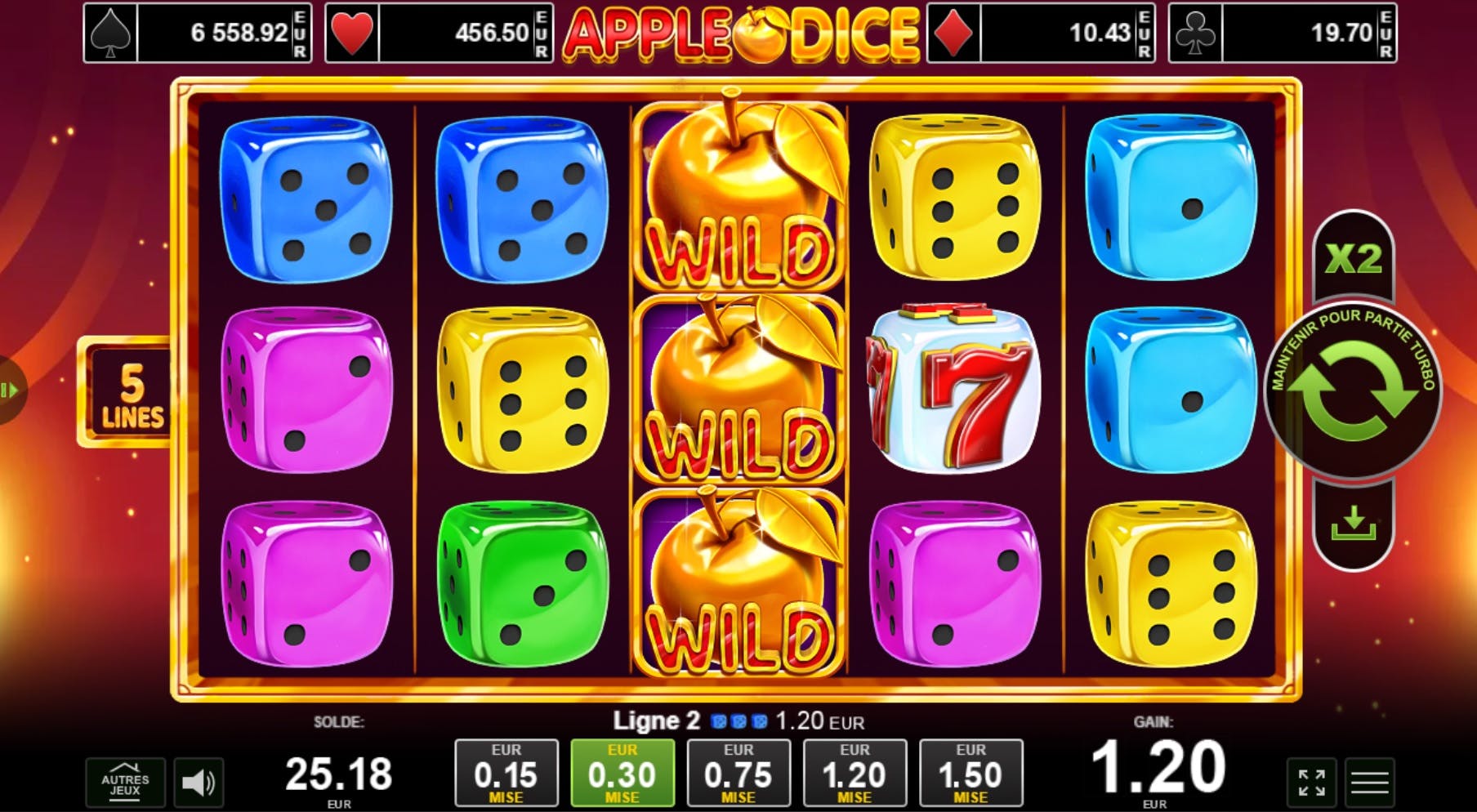 The DARE feature on Apple Dice
In the event of a win, the player has the possibility of participating in the Dare function by pressing the "Dare" button.
The Dare feature activates when the Dare screen opens and the card in the middle of the screen is face down and flashing red and black.
The "Remaining "Dare" attempts" banner shows the number of attempts the player has for the game.
The "Amount to dare" banner shows the amount the player wishes to double in the Dare game.
The "Dare to Win" banner showing the amount a player could win if they guess the color of the card.
The player has the choice between two buttons. "Red and black". When choosing between "Black" and "Red", the card is moved to the top of the screen and kept as history.
The last five cards of the player's session are kept in the History section.
If the player guessed the color of the card correctly, a new card appears in the center of the screen face down and flashes red and black.
This process continues until the player is wrong. The sum of the "Amount to dare" field is displayed in the "Gain" field.
If the player ceases to end the "Dare" game, he activates the "Cash in" button. The screen closes and the amount from the "Gain" field is transferred to the "Balance" field.
If the player does not guess the color of the card, the Dare game ends and the player loses the amount wagered.
The screen closes. The amount in the "Win" field is lost and does not add to the Balance.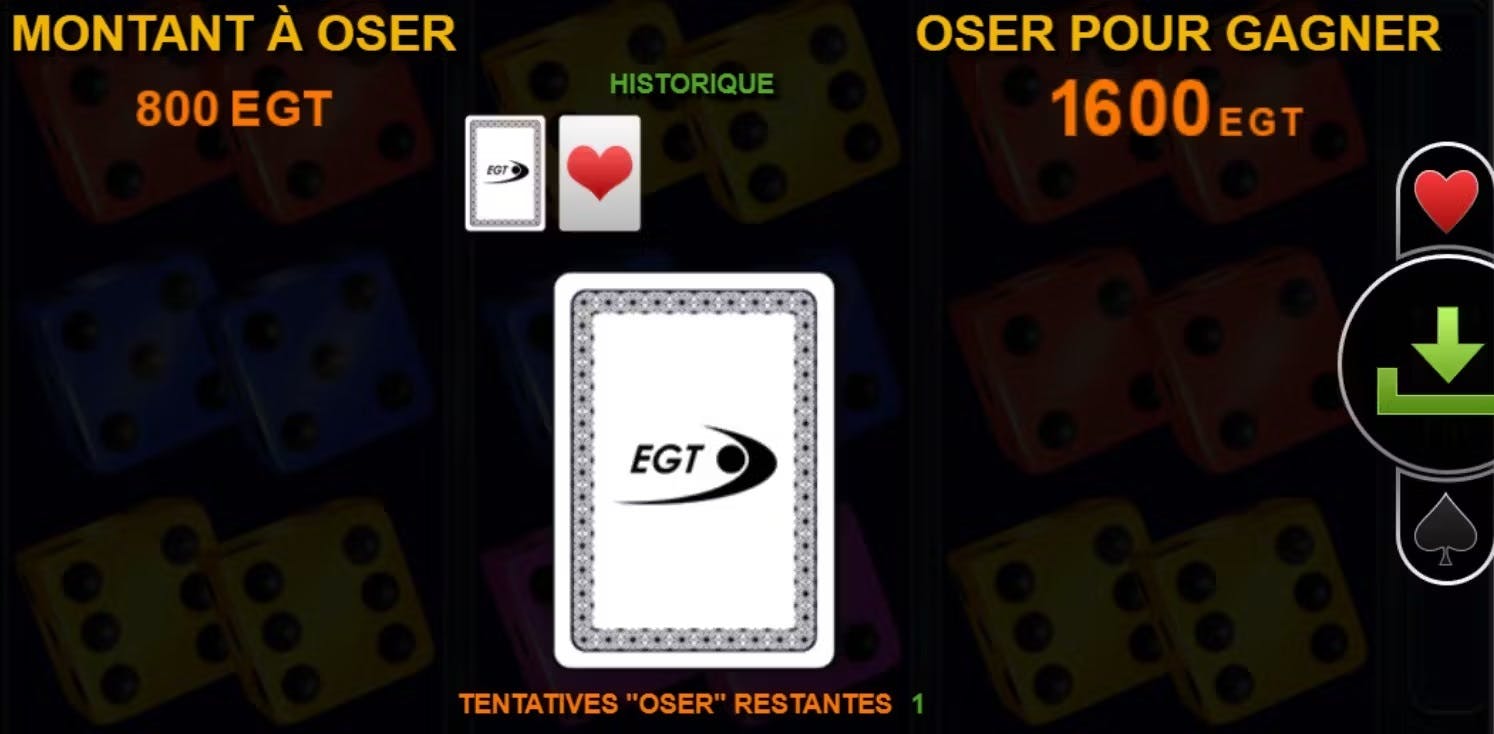 APPLE DICE SLOT IN NUMBERS
Type of game: 5-reel dice slot
Winning lines: 5 lines
Bonus: wilds and scatters
Minimum bet: €0.15
Maximum mix: €10.00
Max gain: 600x the stake or €6000 + jackpot
Jackpot: Yes, 4-level jackpot cards
Redistribution rate: 96.85%
Volatility: 4/10 (low)