Gaming1 Mega Spinner Jackpot, win up to €25,000
Mega Spinner Dice Game: a very glamorous jackpot
The Mega Spinner is a classic in our online casino. This dice game promises you a unique experience: you'll feel like you're taking part in a TV show! Expect a game full of surprises, like this bonus that can fall from the sky at any time, even if you haven't earned any points. And that's not to mention the jackpot, which allows you to pocket up to 25,000 euros! Read how to scoop the Mega Spinner jackpot.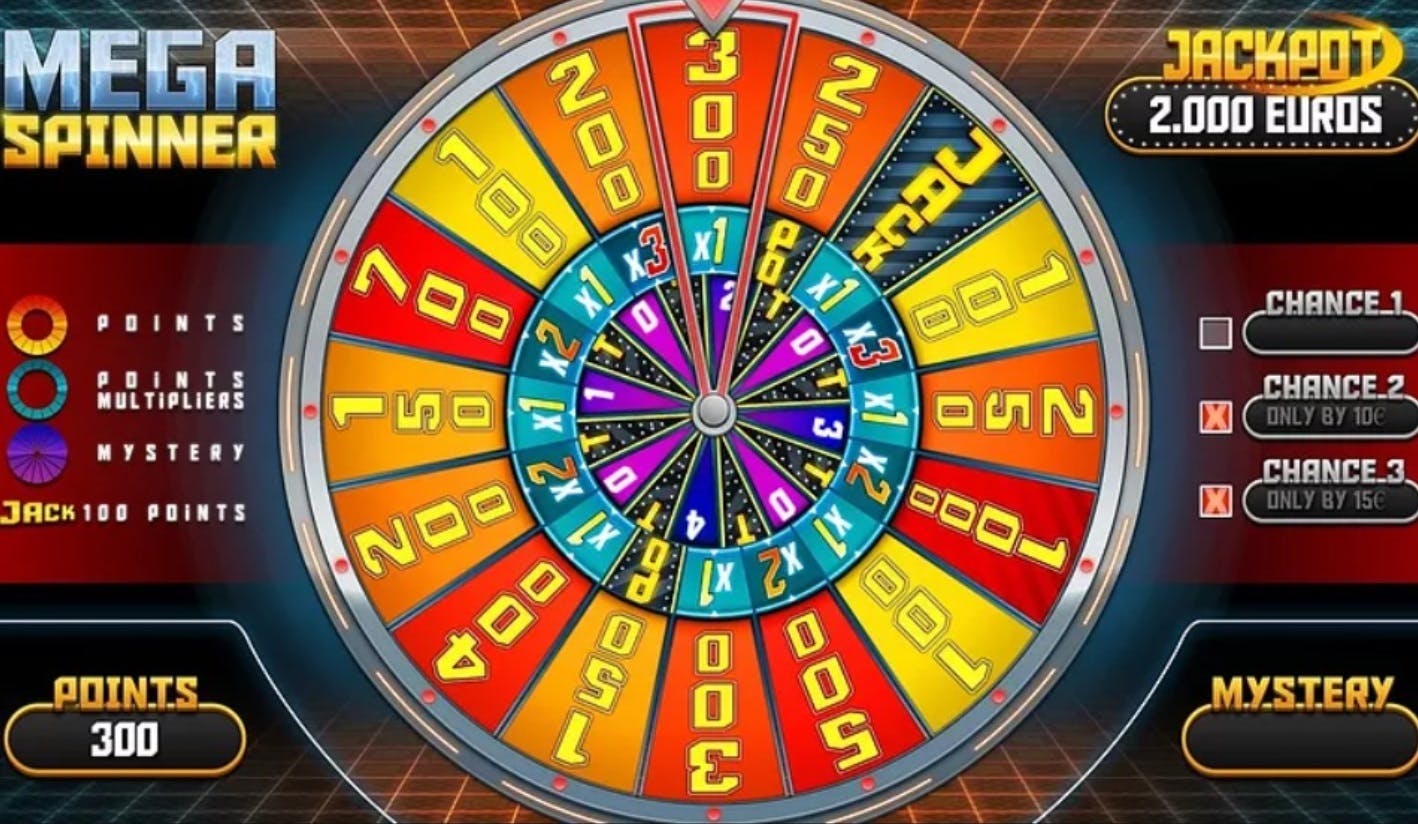 Here is how to play for the Mega Spinner jackpot
By playing the Mega Spinner, you can try your luck at the jackpot in the bonus round, called Triple Wheel. This game does not offer three bonus wheels, but a single wheel made up of three rings. The outer ring determines the number of points, the second ring defines the multiplier.
The center ring displays the number of Mystery games won. Mystery are bonus games that allow you to win up to a hundred times your bet.
But then, how to win the jackpot? Each ring of the bonus wheel displays letters of the word "jackpot". If these letters line up perfectly and form the word "JACK-PO-T", you've hit the jackpot of 2,000 times your stake, with a maximum of 25,000 euros!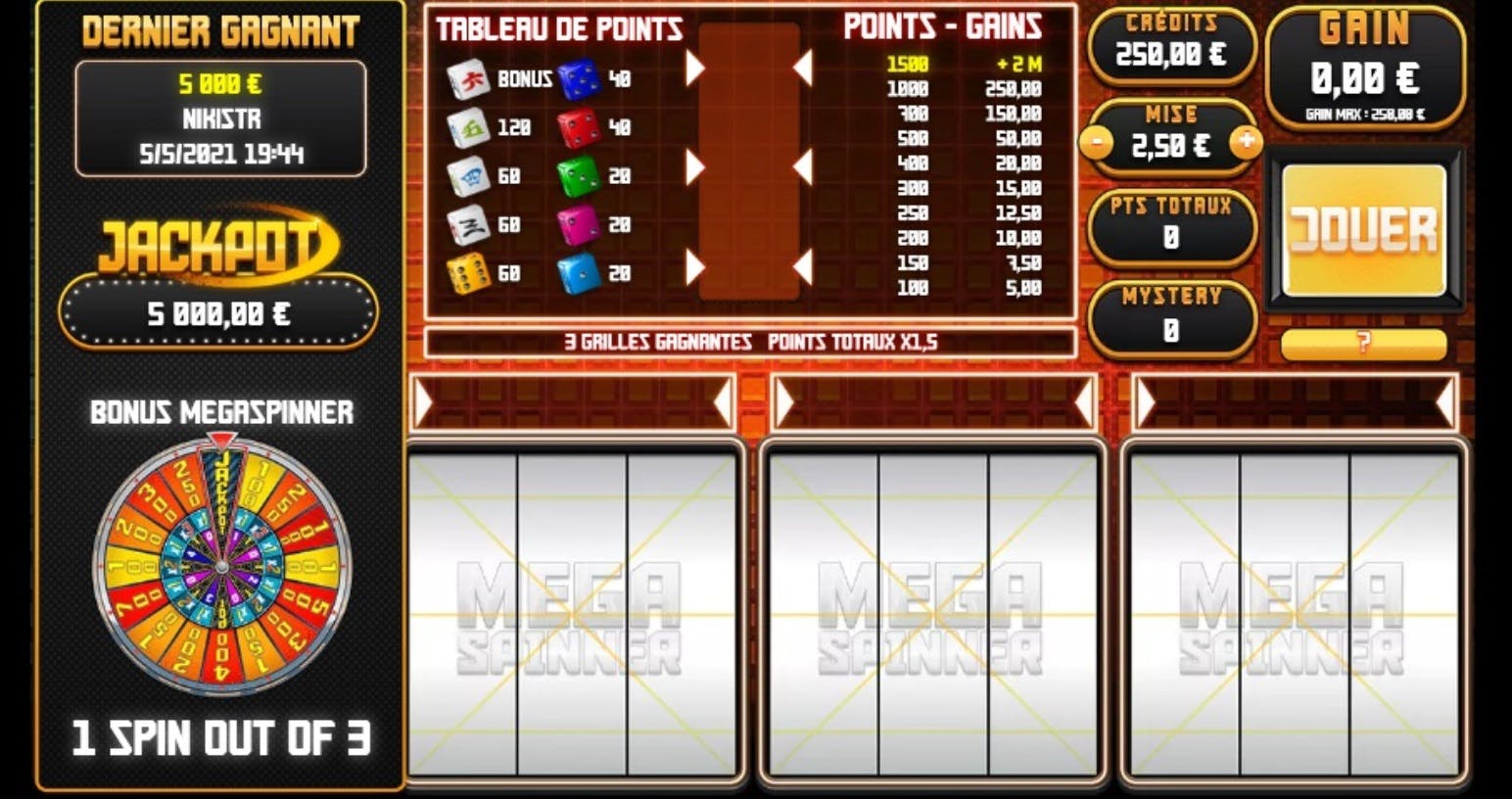 Mega Spinner: the game of strategy and chance
To access this spinning bonus, you need to use the right strategy in the base game of the Mega Spinner. The game is played in four grids of nine squares each, in which you must place dice. The goal of the Mega Spinner is to line up identical symbols horizontally and/or vertically.
The game is partly based on chance, as the dice are generated automatically (in sets of three). But you must also use tactics to form as many winning combinations as possible. Discover our tips for even more fun and winnings.
An adrenaline rush with our jackpots
Try the Mega Spinner today. Who knows, maybe you will be our next winner! We advise you to start with a demo version, in order to fully understand the flow of the game and the winning combinations before betting money.
Are you more into dice slots? Discover all our jackpots and find the game that suits you best.
Read our reviews and stock up on tips to maximize your earnings!
Redistribution rate: 95.80%
Minimum bet: €0.25
Max bet: €15.00
Maximum win: €25,000
Our opinion about the Mega Spinner Jackpot
Gaming1's Mega Spinner jackpot game is simple yet effective. The graphics are classic and may make you think that nothing is going on in this dice game but think again!
Once the 3 bonus symbols line up, the excitement and action will be at its peak as you can spin the wheel of fortune for a chance to win a jackpot of up to €25,000.
The Mega spinner game is fast and fluid, many different bets will be offered to you from 0.25€ to 15€ with the particularity of being able to win a huge jackpot with a bet of 15€. You can indeed win more than 1600 times your initial bet!
Unfortunately (or fortunately for you) the Mega Spinner jackpot is a little shunned by players because the sums to be won are fixed compared to some other progressive jackpots available on Luckygames.
Fewer players therefore more chance for you to win it? Good luck and have fun!