Gaming1 Fakir Dice Game, challenge the mighty Fakir.
The objective of the game is to place symbols in a grid to create horizontal or diagonal lines consisting of identical symbols. The number of points you receive depends on the value of the symbols on the winning line, which are listed in the Point Table.
Determine the amount of your stake.
When you have chosen your stake, click the button START to start the game.
Only the highest gain per combination of symbols is paid.
During a game, all the obtained winnings are added to the winnings counter.
All wins occur on all paylines according to the paytables.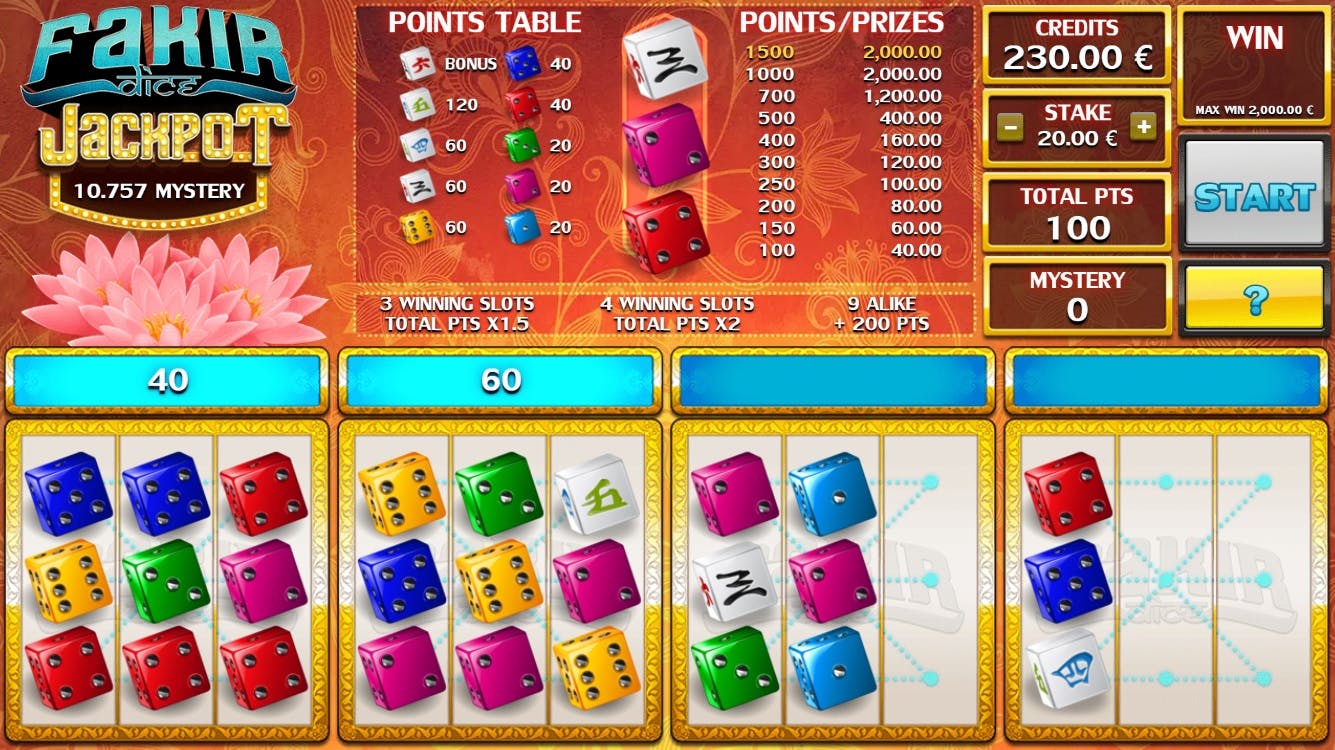 BONUS GAME: « THE PUCK LOTTERY »
TRIGGER CONDITIONS
Align 3 Bonus symbols on a grid to trigger the The Puck Lottery and launch The Fakir's Plank Bonus Game.
The grid turns into a reel game and you receive one free puck to start with. Then, packs of pucks will keep sliding before your eyes until they stop. All the numbers landing on the central line will add up to form the stash of pucks that will be played throughout The Fakir's Plank Bonus Game.
BONUS GAME: « THE FAKIR'S PLANK »
THE PUCK LOTTERY
During the Plank Bonus, your pucks will be thrown automatically one after the other. They will tumble over the nails and fall down into a socket that shows your winnings. You can earn points or Mystery Games throughout The Mystery Wheel. If the puck crosses one of the 3 gates on the way, you win either 1 additional puck or 1 Jackpot star.
Collect the 3 stars to win the Jackpot in Mystery.
The game ends when you run out of pucks.
THE MYSTERY WHEEL
As soon as a puck falls into the Mystery socket, a wheel will start spinning. When it stops, it can bring you between 1 and 5 Mystery.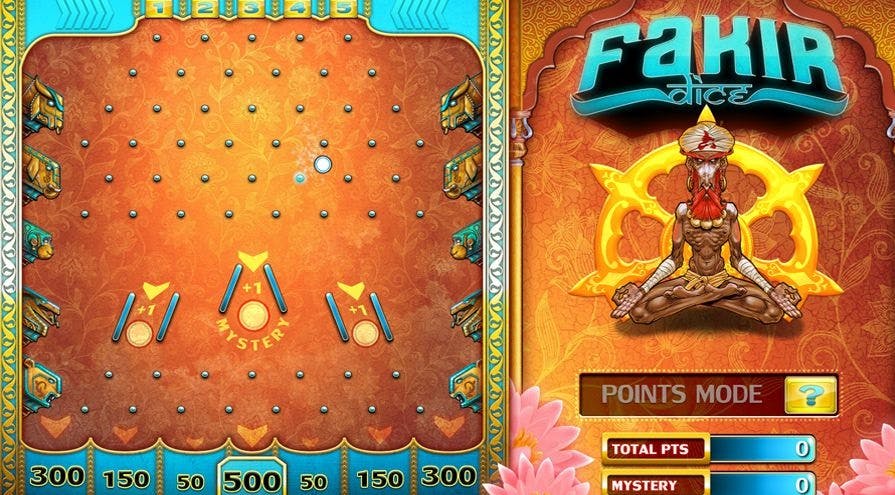 BONUS OF THE FAKIR DICE
Align 3 bonus symbols in one of the grids and get access to the bonus game. Only one bonus can be triggered per grid.
A Mystery game is a special kind of game which allows you to win the maximum amount, regardless of the number of points you have collected! During a game you can win up to 100 x your stake.
MULTIPLIERS ON THE FAKIR DICE GAME
The total amount of points is multiplied by 1.5 if you manage to make a winning line in 3 different grids.
The total amount of points is multiplied by 2 if you manage to make a winning line in all 4 grids.
You win 200 extra points if you manage to fill a grid with 9 identical symbols.
THE FAKIR DICE IN NUMBERS
Type of game: dice placement, dicegame
License: B+
Redistribution rate: 96.00% ; 2% of the RTP is reserved for the jackpot(s).
Minimum bet: €0.25
Maximum bet: €20.00
Maximum win: 100x the bet, i.e. up to €2,000.00
Bonuses: Points, Mystery and multipliers
Jackpot: Yes, different levels per bet