Fire Fakir new Gaming1 diceslot game
In the sacred mountains, a mysterious Fakir has been meditating for hundreds of years.
Legend has it that he is the guardian of a room full of unexpected riches.
Each time he wakes up, he materializes a fire, multiplying his power and the value of the winnings surrounding him.
Tame the secrets of the holy fire and step through the door to the secret chamber for the very first time!
GENERAL RULES
Line up the symbols and collect your winnings!
A slot machine consists of a number of reels that spin and then stop to form winning combinations. The paytable provides an overview of the value and characteristics of each symbol. Determine your bet by clicking on the - and + buttons. Then start the game by clicking on the Spin button. Only the highest win per symbol combination is paid.
During a game, all winnings obtained are added to the winnings counter.
All wins occur on all 5 lines according to the paytables.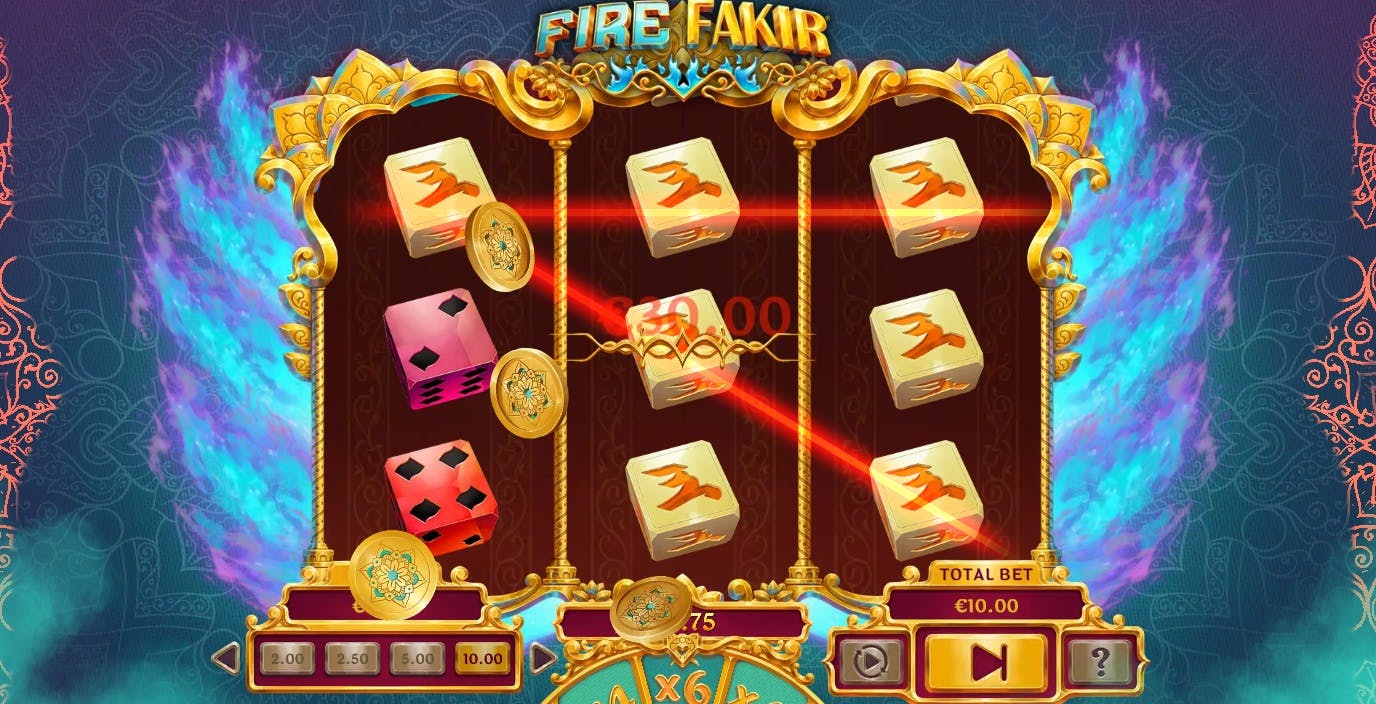 WHEEL OF WEALTH
The bonus instantly starts a multiplier wheel and chooses one. This multiplier multiplies the winnings of the 5 winning lines!
The Wheel of Wealth bonus is triggered when a complete grid of the same symbol is obtained.
A full grid is a grid filled with identical symbols. The symbol "The Fakir" may replace any other symbol in this regard.
The multipliers are: x2, x3, x4, x5, x10 in standard mode. The multipliers are: x4, x6, x8, x10, x25 during the Sacred Fire.
SUPREME CONCENTRATION
Once per spin, the Supreme Focus feature will re-spin one of the 3 reels if it gives a chance of getting a full grid. This feature is only active if no other wins have been obtained during the round.
SACRED FIRE
At the start of a turn and for an indefinite period, the sacred fire function can start randomly. This will increase the value of the Wheel of Wealth bonus multipliers. The fire will appear or disappear when a new game is started.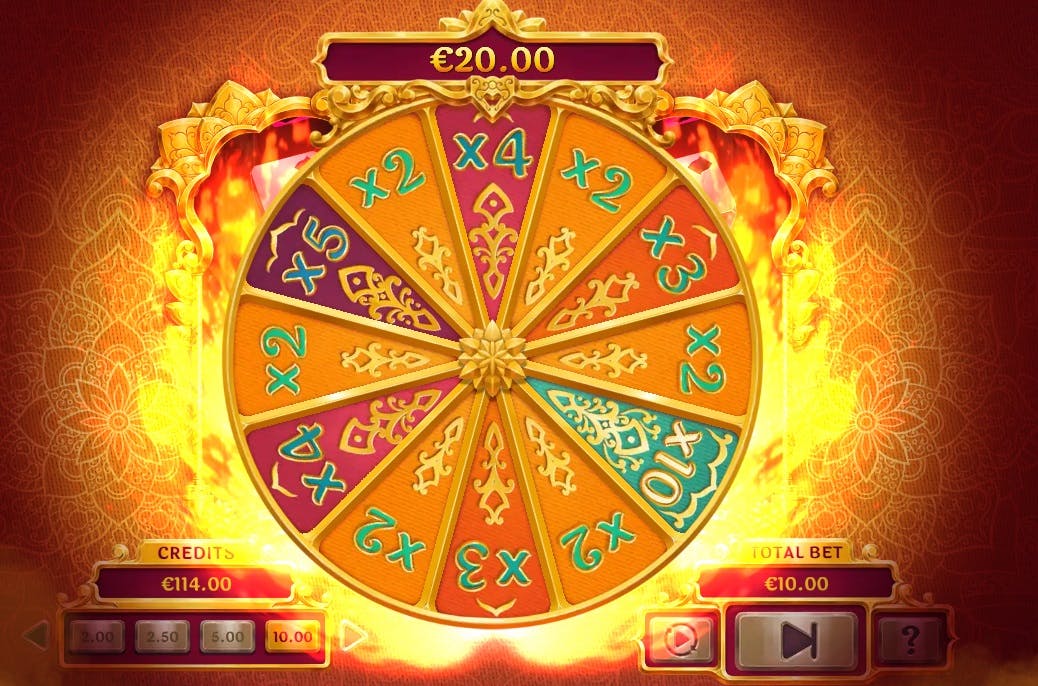 Diceslot Fire Fakir in numbers
Type of game: video diceslot
Redistribution rate: 94.28%
Number of rollers: 3
Paylines: 5
Stakes: from €0.10 to €10.00
Max gain: €5,000.00
Functions: Wild Symbol, Respin, Multiplier
Jackpot: No
Volatility: Average 6/10
Game launch: October 2, 2023