Endorphina Rooster Fury dice slot game
Step into the ring in our Rooster Fury Dice slot!
Today, wrestling superstars are surrounded by fandom, inspiring the luckiest players to try their luck on Rooster Fury Dice slot. Here, each wrestler appears as an iconic symbol of international elite fighting culture, and brings an explosion of emotions to these game reels!
In this slot game with 3 reels, 3 rows and 5 fixed paylines, the Scatter is called Rooster Fury Dice. A combination of three Scatters can trigger up to 30 free games or more. The Scatter acts as a Wild symbol during free spins and can substitute for other symbols.
Rooster fight bonus game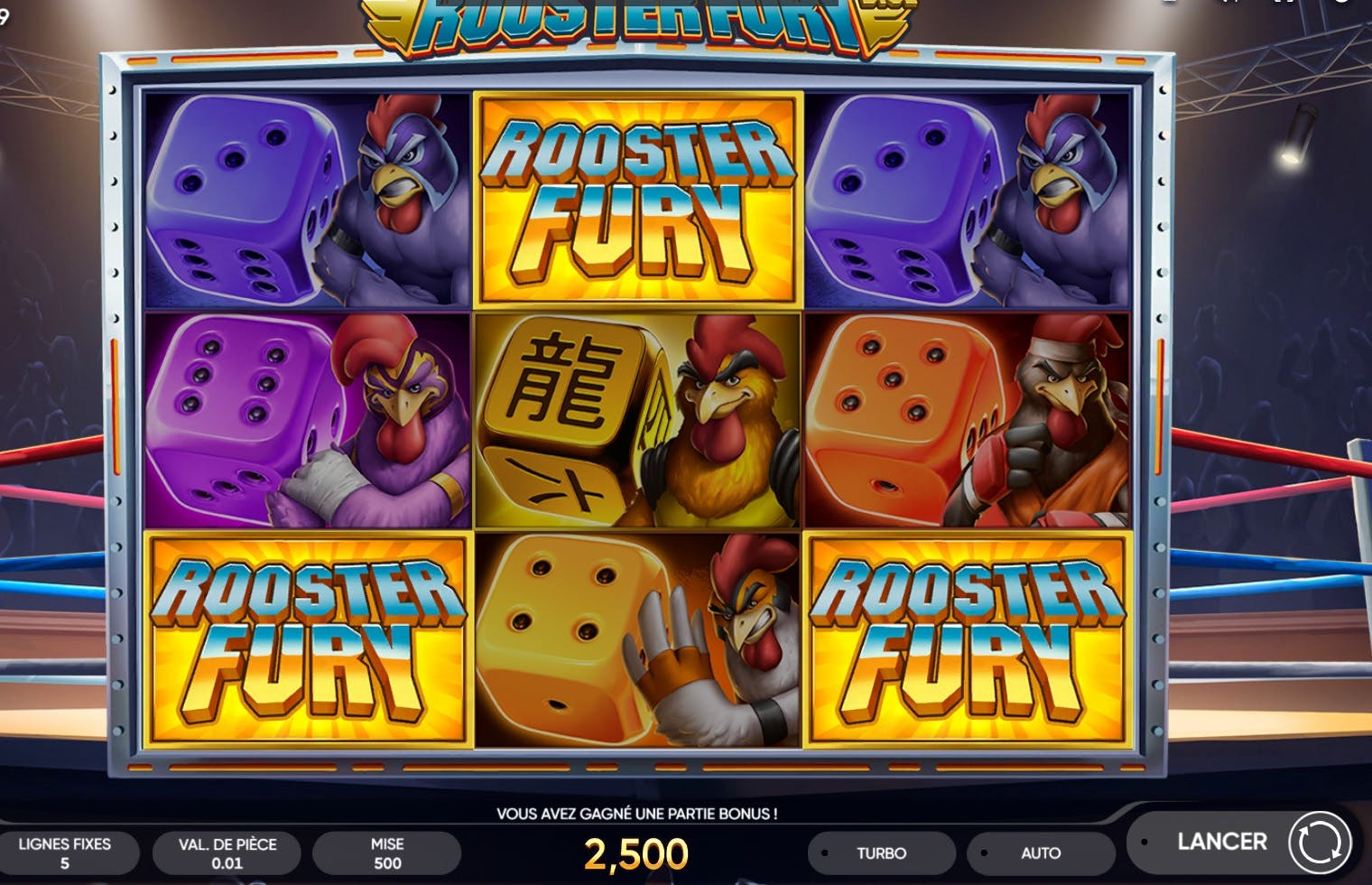 3 SCATTER Symbols trigger the bonus game of the fight between the roosters.
Your rooster is randomly selected at the start of the bonus game. He will face an opponent in a maximum of 6 fights.
If your rooster wins the fight, you win the corresponding prize.
6x the total bet for the 1st fight
8x the total bet for the 2nd fight
10x the total bet for the 3rd fight
15x the total bet for the 4th fight
20x the total bet for the 5th fight
30x the total stake for the 6th and last possible fight
If your rooster loses a fight, the bonus round will be over.
The fight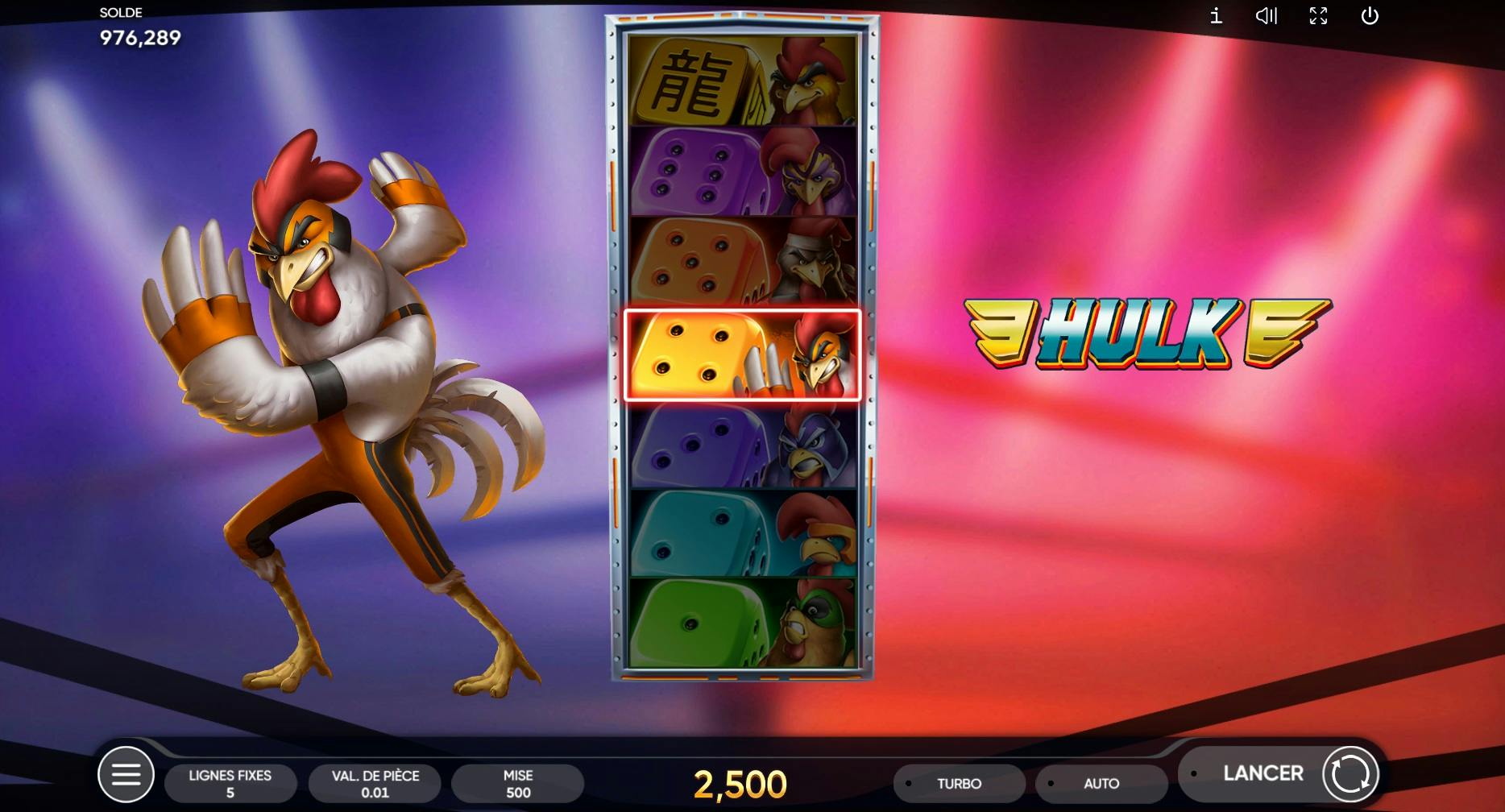 Your rooster is on the left of the screen until the end of the bonus round and the fighter changes with each fight.
A fight consists of 5 rounds. At each round, points are awarded to each rooster for the winning combinations obtained, one point per combination.
After each fight, the winner is chosen. If both fighters get the same number of points, the fight continues until one of them wins.
The winnings of the different paylines are added together during each round.
3 SCATTER symbols on the reels, during the bonus round, add 3 extra rounds to the current fight.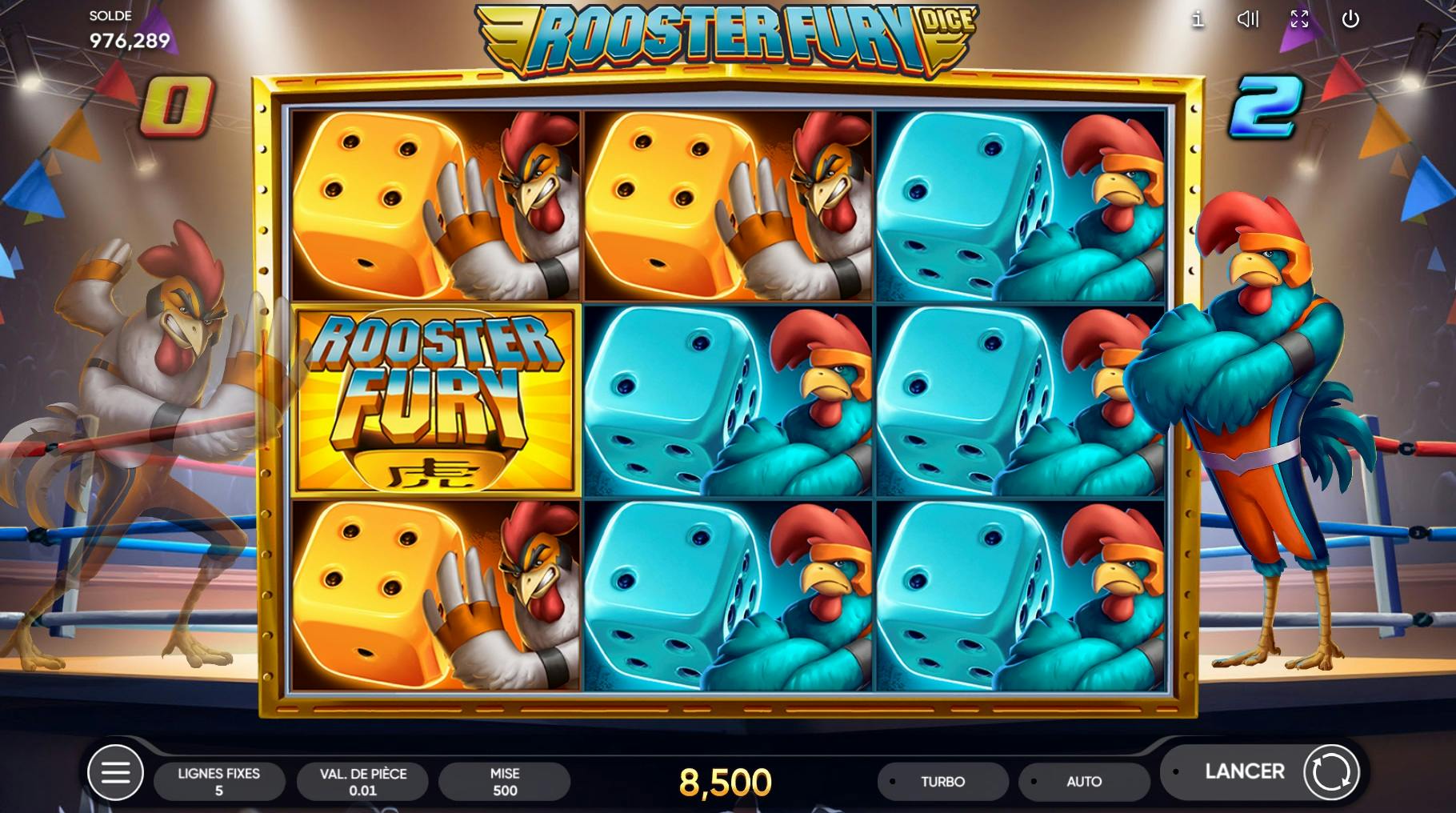 Risk game
Try your luck and increase your winnings in installments!
Choose a card from the four cards dealt face down on the table. If your card is higher than the dealer's, your win is doubled and you can try again (maximum 10 rounds).
If the dealer wins one of the rounds, you lose your winnings and the RIQUE game ends.
Tips:
The JOKER is superior to all other cards and the dealer can never receive a joker.
Drawing a card of the same value as that of the dealer results in a tie: your winnings remain unchanged and you can try your luck again.
The average payout rate is 84%, however your odds may be higher or lower each round depending on the dealer's card:
2 = 162%; 3 = 121%; 4 = 113%; 5 = 101%
6 = 100%; 7 = 100%; 8 = 100%
9 = 92%; 10 = 78%
D = 69%; Q = 66%; K=64%; A = 42%