Betsoft Sugar Pop 2 Double Dipped Dice Slot Game
Candy Crush lover?
Experience the reimagining of Sugar Pop, one of Betsoft's most popular games. In this incredible sequel, embrace all that was enjoyed and loved in the original game, with cluster wins and cascading exploding candies for extra wins.
Don't trust it too quickly because things are about to change. In Sugar Pop 2: Double Dipped, everything has been reinvented, from leveling to candies and associated bonuses, a whole new game to discover!
Principle of the game Sugar Pop 2
The object of the game in the Suger Pop 2 Double Dipped dice slot is to group together as many identical symbols as possible in the playing area. All winning combinations are made up of groups of at least 4 symbols placed next to each other.
All winning symbols explode, remaining symbols fall into the play area, and new symbols come from the top of the play area to fill the empty spaces.
With this cascading system, as you will have understood, new winnings can be formed each time symbols explode!
Candy bombs feature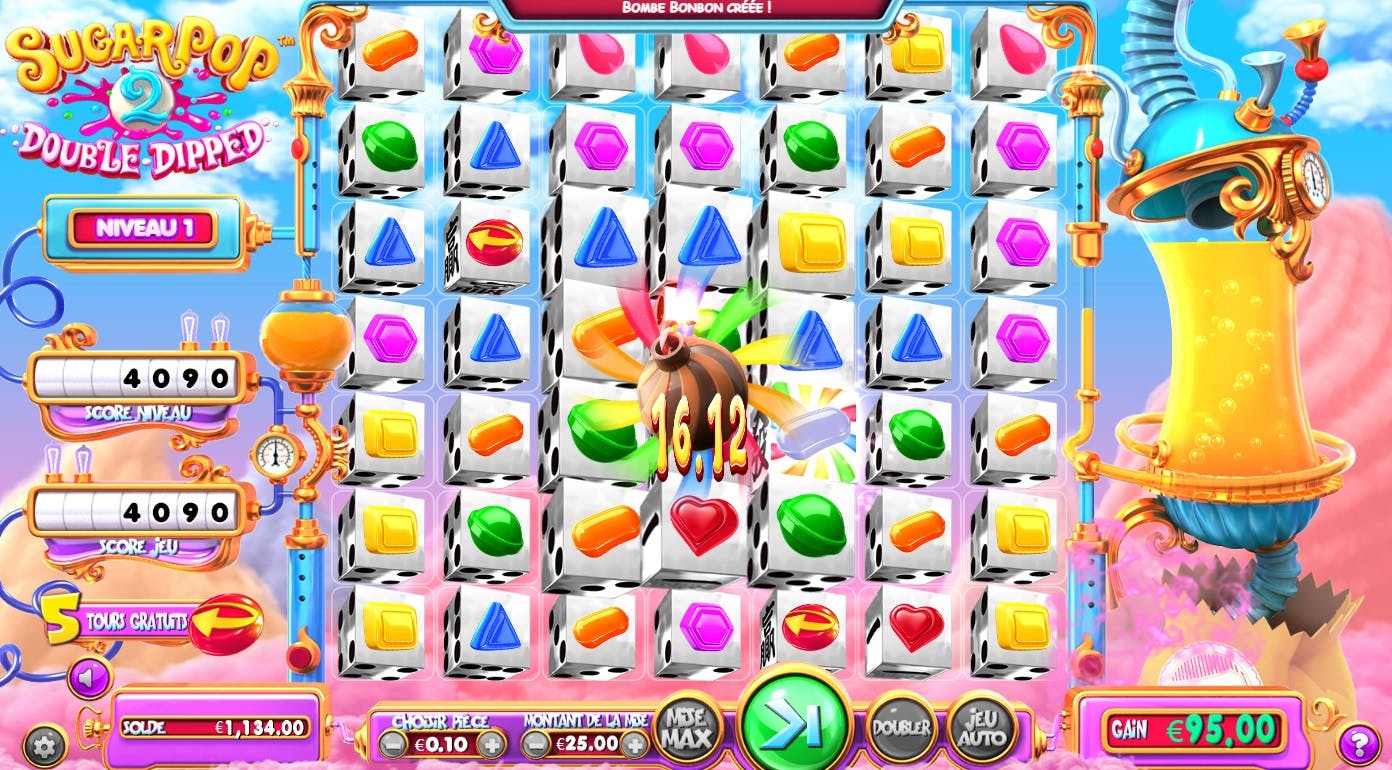 5 Group winners and + create a BOMB!
The more winning groups of symboles, the more powerful the bomb will be and will hit at most 20 symbols.
Bomb effects:
5 winning groupings = 6 exploded symbols
6 winning groupings = 9 exploded symbols
7 winning groupings = 12 exploded symbols
8 winning groupings = 16 exploded symbols
10+ winning groupings = 20 exploded symbols
The bomb is stored until all other winnings are displayed. It is then placed in the play area, explodes and destroys the appropriate number of symbols, earning a CASH prize and producing an additional cascade of symbols on the board for even more possible wins!
5 or more Symbols in a winning cluster generates a WILD symbol which remains indented when the cluster explodes.
This wild symbol counts as WILD and substitutes for all symbols except Free Spins and Level Up.
Level up feature on Sugar Pop 2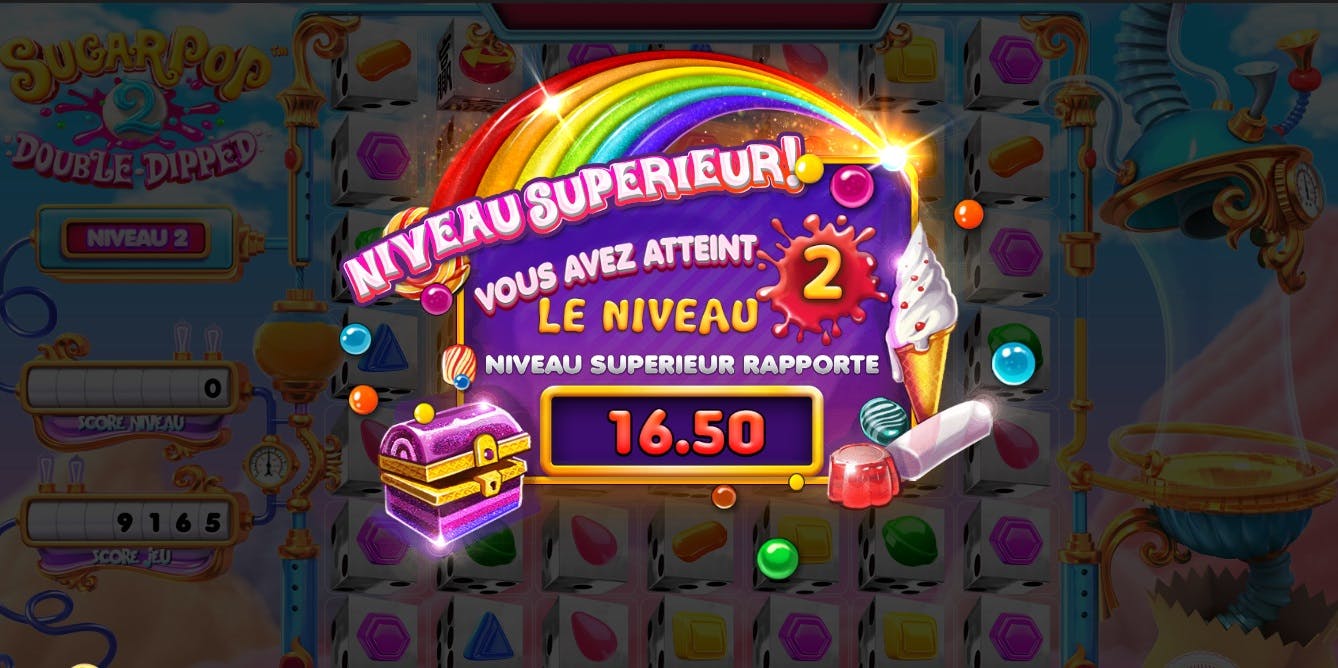 Spend cash prizes and unlock SPECIAL CANDY symbols by leveling up.
Each higher level symbol advances the indicated path of advancement in the game.
The number of higher level symbols required to progress on the path increases by 2 symbols with each level.
Level 1 to 2 you will need 4 SUP symbols
Level 2 to 3 you will need 6 SUP symbols
Level 3 to 4 you will need 8 SUP symbols
Level 4 to 5 you will need 10 SUP symbols
The rewards of higher levels
Every 4 levels and up to level 29, a special candy is added to the game. During the game you have a chance to see a SURPRISE EGG on the board. This egg will reveal one of the special candies that have been unlocked by leveling up, which will activate the SPECIAL CANDY ability and increase your chances of winning.
Level 1 - Gumball: Absorbs all symbols of the same color anywhere on the board before exploding
Level 5 - Caramel Candy: Travel around the reels and destroy all symbols in its path
Level 9 - Barley Sugar: Explode all symbols in the same row and in the same column
Level 13 - Lollipop: Mix the symbols on the game board
Level 17 - Sour Candy Pop: Appears on random candies on the board, causing them to explode
Level 21 - Candy Bean Cannon: Shoots candy beans that fall onto the board and destroy the symbols hit
Level 25 - Golden morph wild: Replaces all adjacent symbols except free spin and level up
Level 29 - Sweet Hammer: Hits the playing area up to 9 times, shattering symbols which are then removed from the playing area
Free spins on Sugar Pop 2
A grouping of 4 or more FREE SPINS symbols triggers FREE SPINS.
The number of free spins awarded depends on the number of symbols in the cluster.
For each additional symbol in a grouping, you will receive 2 free spins added to the previous number!
4 Symbols will give 5 free spins
5 Symbols will give 7 free spins
6 Symbols will give 9 free spins
7 Symbols will give 11 free spins
And so on.
The Suger Pop 2 Double Dipped in numbers
Type of game: video diceslot
Redistribution rate: 96.46%
Hit rate: 36.68%
Game area: 7 x 7 symbols
Paylines: Pays Cluster (Cascade)
Stakes: from €0.50 to €25.00
Max win: 113x the bet
Features: Free Spins, Wild Symbol, Levels, Exclusive Bonus Symbols, Cascade
Jackpot: No
Volatility: Medium 6/10
Launch of the game: 2022