Airdice Mystery Deal Innovative Dice Game
Score more than 500 points and choose your style of play!
Will you take the money to bet on the Mystery Wheel?
Win up to 15 Mystery Games!
Bets and games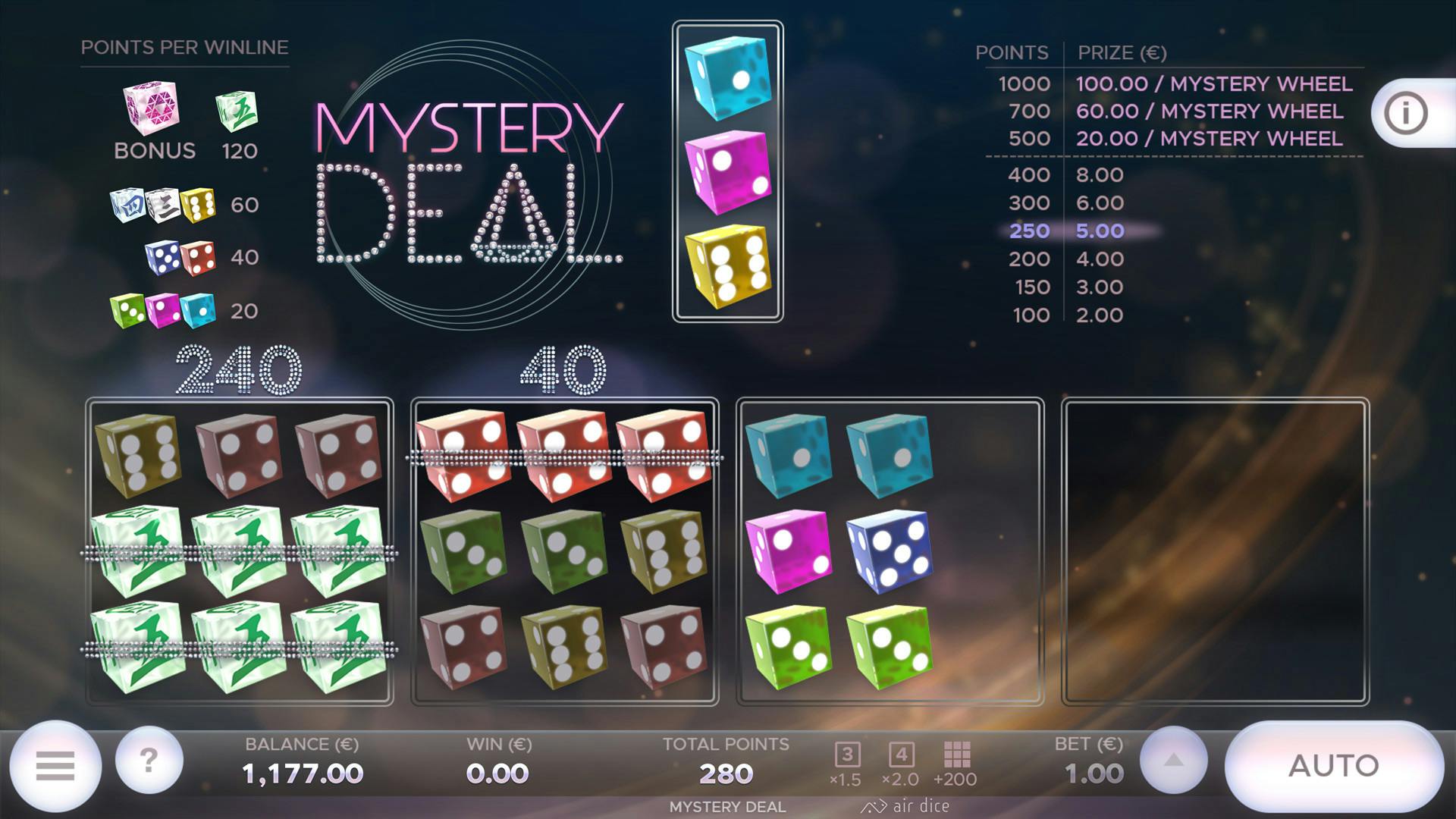 A game round consists of 12 player moves. Each move consists of placing the column of 3 random dice symbols into one of the four boxes available. A game round is complete when all 12 moves have been made. On completion of the game round any points earned are awarded and paid according to the prize table.
In the case of 500+ point wins, the Mystery Wheels feature is first resolved and the wins paid out. The next game round can then be started.
Points are gained by placing 3 of the same dice symbols in a horizontal or diagonal line. Different dice symbols carry different point values with less common dice symbols carrying the higher point values. A minimum of 100 points is required for the minimum prize.
Bonus Feature Mystery Wheels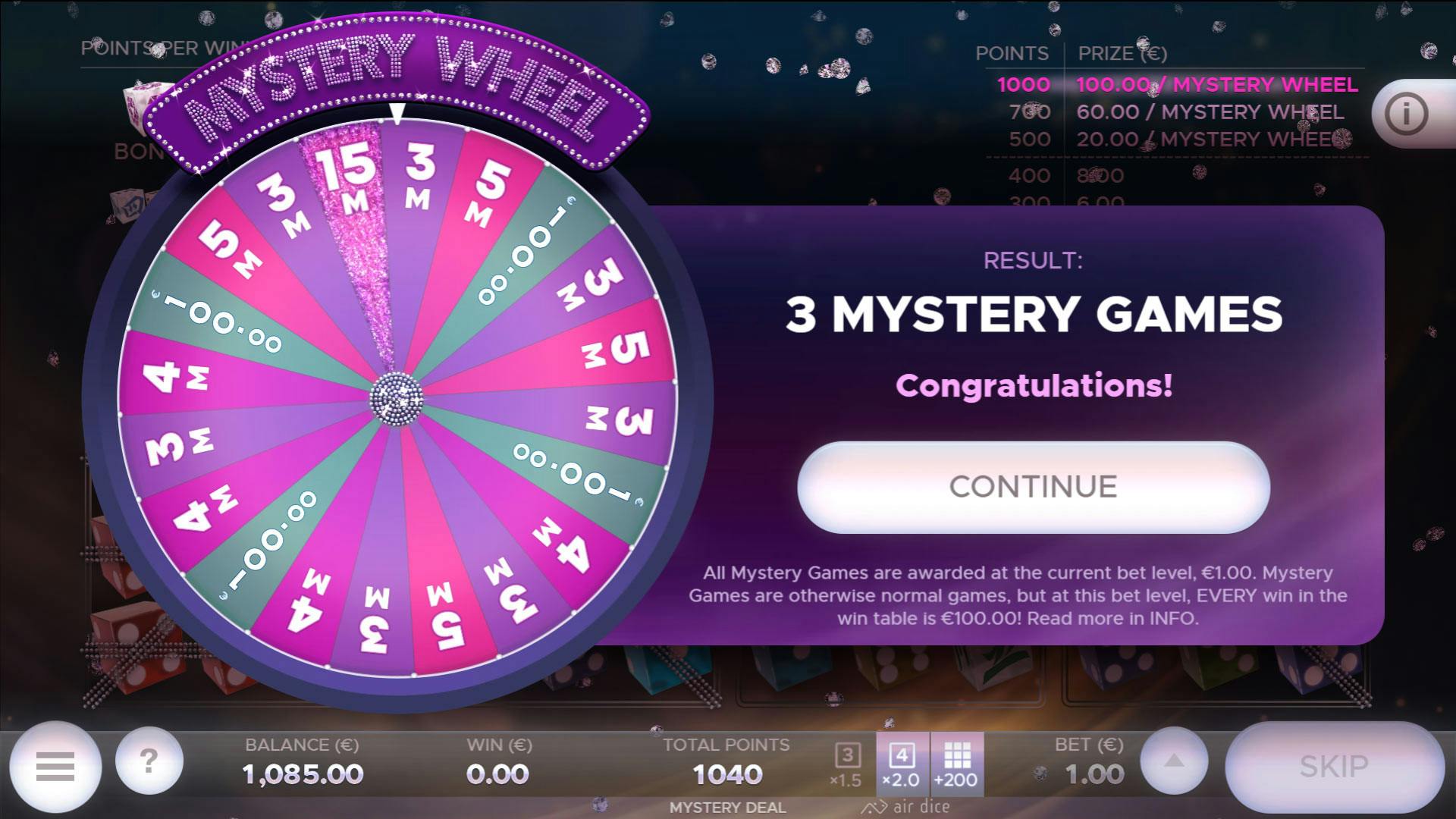 In Mystery Deal, it is possible to win Mystery Games from the main game. When you score 500+ points, you will be asked if you want to take the money prize or spin the Mystery Wheel. Each eligible prize category (500, 700 and 1000 points) has its own Mystery Wheel.
Possible prizes:
500 point wheel: 1, 2 or 5 Mystery Games; money (20 or 5 x bet.)
700 point wheel: 1, 3, 5 or 10 Mystery Games; money (60 x bet.)
1000 point wheel: 3, 4, 5 or 15 Mystery Games; money (100 x bet.)
The Mystery Wheels Feature is not available during Mystery Games. Cash prizes cannot be traded for Mystery Wheel spins.
Bonus Feature Crystal Wheel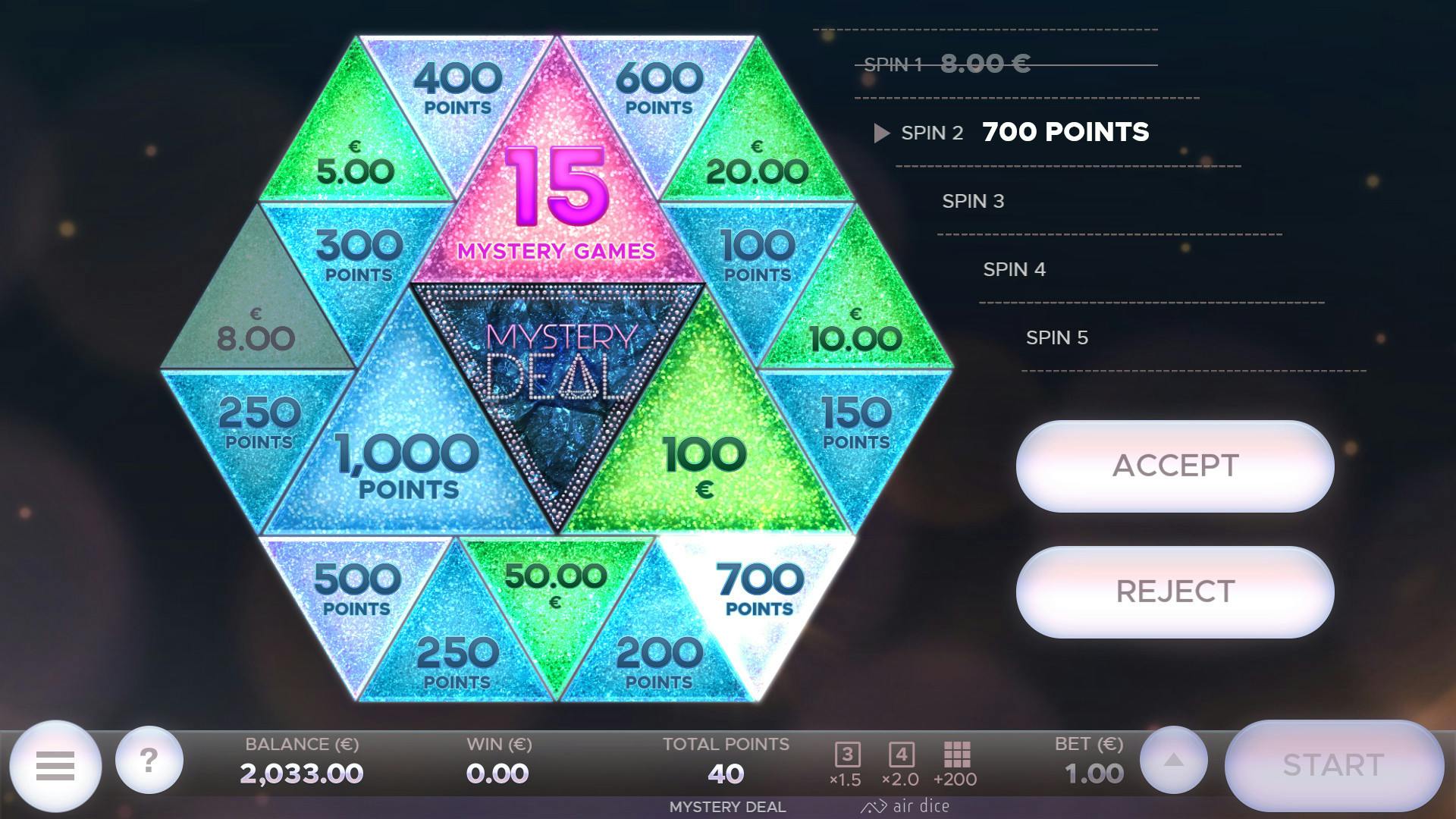 Place three Bonus symbols on a winline to trigger the Crystal Wheel Bonus Feature (also referred to as the Bonus Feature.)
In this Bonus Feature you spin a wheel and accept or reject the result. You have five spin attempts, after which the last result must be accepted.
Possible prizes:
Points: 100, 150, 200, 250, 250, 300, 400, 500, 600, 700, 1000.
Money: 5, 8, 10, 20, 50, 100 x bet.
15 Mystery Games
When the Bonus Feature ends, point prizes are added to the main game result and count toward your total win.
The Bonus Feature can be triggered only once per main game box, but from multiple boxes in one game round.
The Mystery Games
During Mystery Games, all prizes in the main game prize table are worth the main prize, 100 x bet. A minimum of 100 points is required to win. A cash prize does not trigger the 100x bet win.
Mystery Games are not free rounds: every Mystery Game requires you to place the same bet as the round in which it was won. No bets can be altered during Mystery Games. Mystery Games start in the round following the one in which they were won.
In this game, Mystery Games can be won from the Bonus Feature OR from the main game in specific situations. See Feature: Mystery Wheels for details