Gaming1 Triple Wheels Dice - Full Review
Unlock without further delay all the features of the Gaming1 Triple Wheels for only €1.50 bet.
Get 3 different proposals in the Triple Wheels bonus.
Land up to 25 Mystery games in a thrilling bonus!
Principle of the Triple Wheels game
To launch the game choose the amount of your bet then press the PLAY button to start the game.
The principle of the game consists in placing several columns of 3 dice in the grids of the game so as to form horizontal or diagonal lines of identical dice.
You earn a number of points relative to the value of the aligned dice as indicated in the payout table below.
PROCESS OF THE BONUS GAME
Align 3 bonus symbols in one of the grids and access the bonus game. In the bonus part you will win points or Mystery games. Only one bonus can be triggered per grid.
During the bonus game, the bet remains identical to the game that triggered the bonus.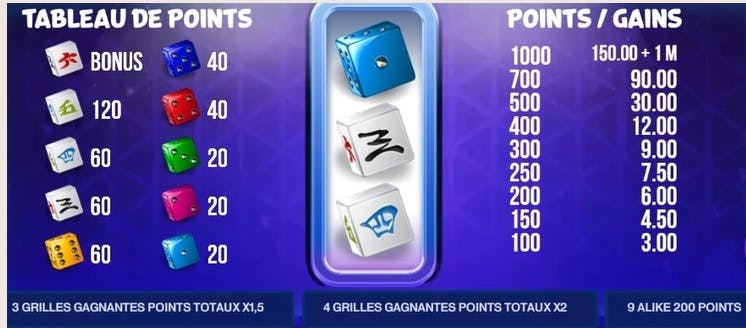 Triple Wheels Bonus
Win 3 bonus symbols to trigger the TripleWheels bonus.
Launch the three wheels when you are ready. They rotate one after the other, multiply your points and win maybe up to 25 Mystery games.
You will have three proposals to triple your sensations and your chances of big winnings.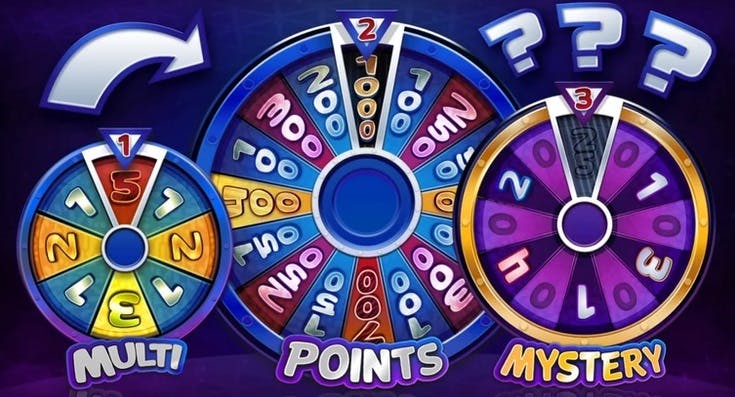 Be careful, if you come across the Mystery segment while it is grayed out, you will have to relaunch the wheel. (only if the bet is less than €1.50)
Play for €1.50, unlock the Mystery segment with 25 Mystery games and get 3 propositions to triple your chances.
The Mysteries won are stored and will be available during your next games, good luck!
Mystery Games
A MYSTERY game is a special game during which you win the maximum amount regardless of the point bracket you reach. The maximum win you can win in a game is 100x your bet. This maximum gain is therefore available as soon as you score 100 points in a Mystery game!
The sum of points generated in each grid appears at the top of each grid and the total points of all grids are also displayed in TOTAL POINTS.
The total points are multiplied by 1.5 when you form winning lines in 3 different grids.
The total points are multiplied by 2 when you form winning lines in 4 different grids.
You will earn 200 extra points when you fill a grid with 9 identical symbols!