Dice Of Mystery - Gaming1 Game - Casino Luckygames
Place the wild dices!
A column of wild dice can appear randomly during a game. Place it like any other column of dice. Wild dice substitute for all other dice, including bonus dice. This feature is only available in the classic game.
The cashback book
The cashback book can come alive at the end of a losing game, to activate and offer you a prize at the start of the next game.
Each lost game gives you a chance to activate the cashback book. Once activated, the book transforms. Then start a new game: the book opens, the pages scroll and you win a reward of 100 to 250 points or 1 to 5 mystery. Your reward is reserved and added at the end of the game, after point multipliers have been applied.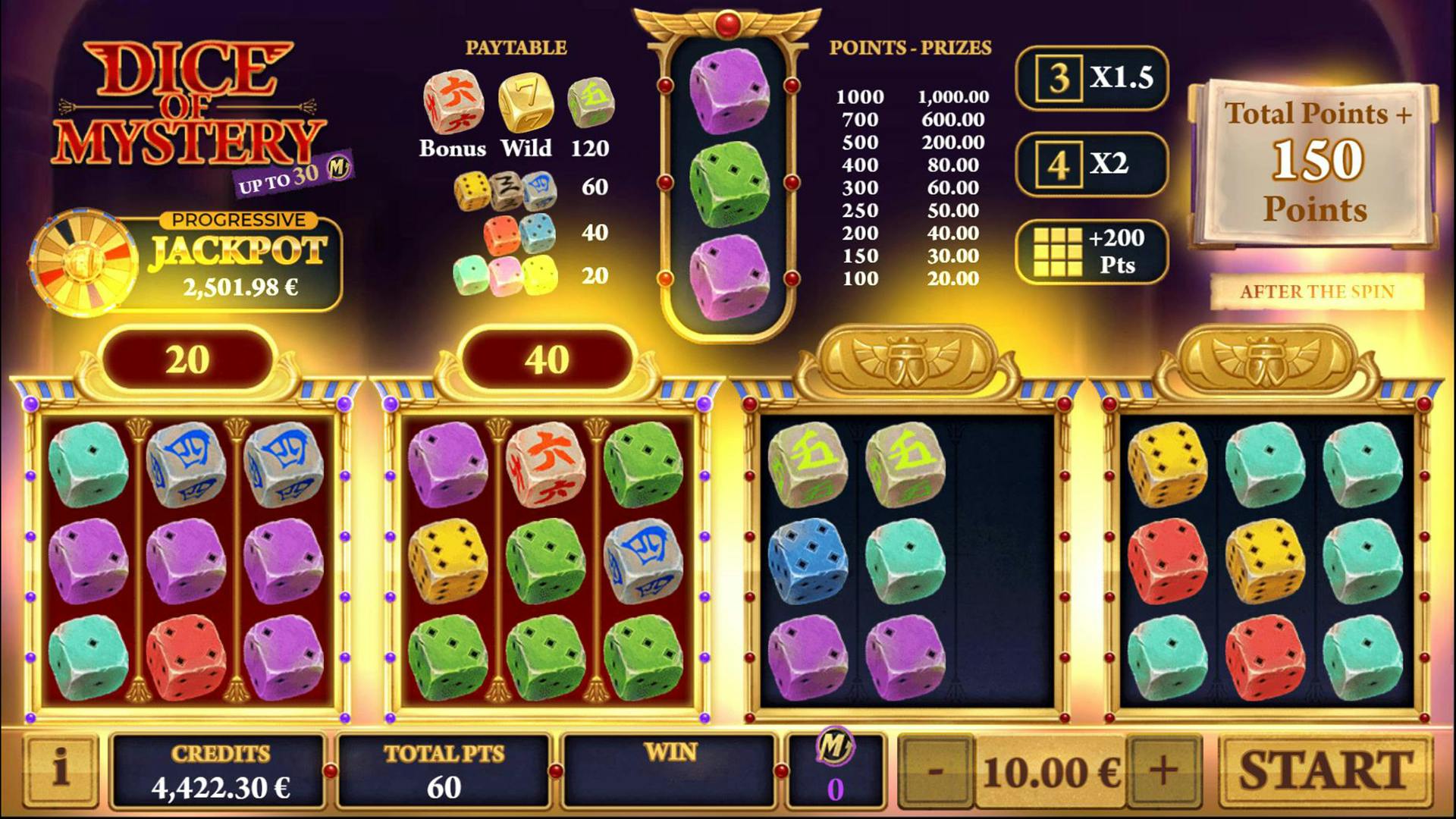 A game loses if you have not triggered any winnings, either in credits or in mystery. The book only activates during non-mystery games.
The treasure wheel
Line up 3 bonus dice to trigger the treasure wheel bonus game.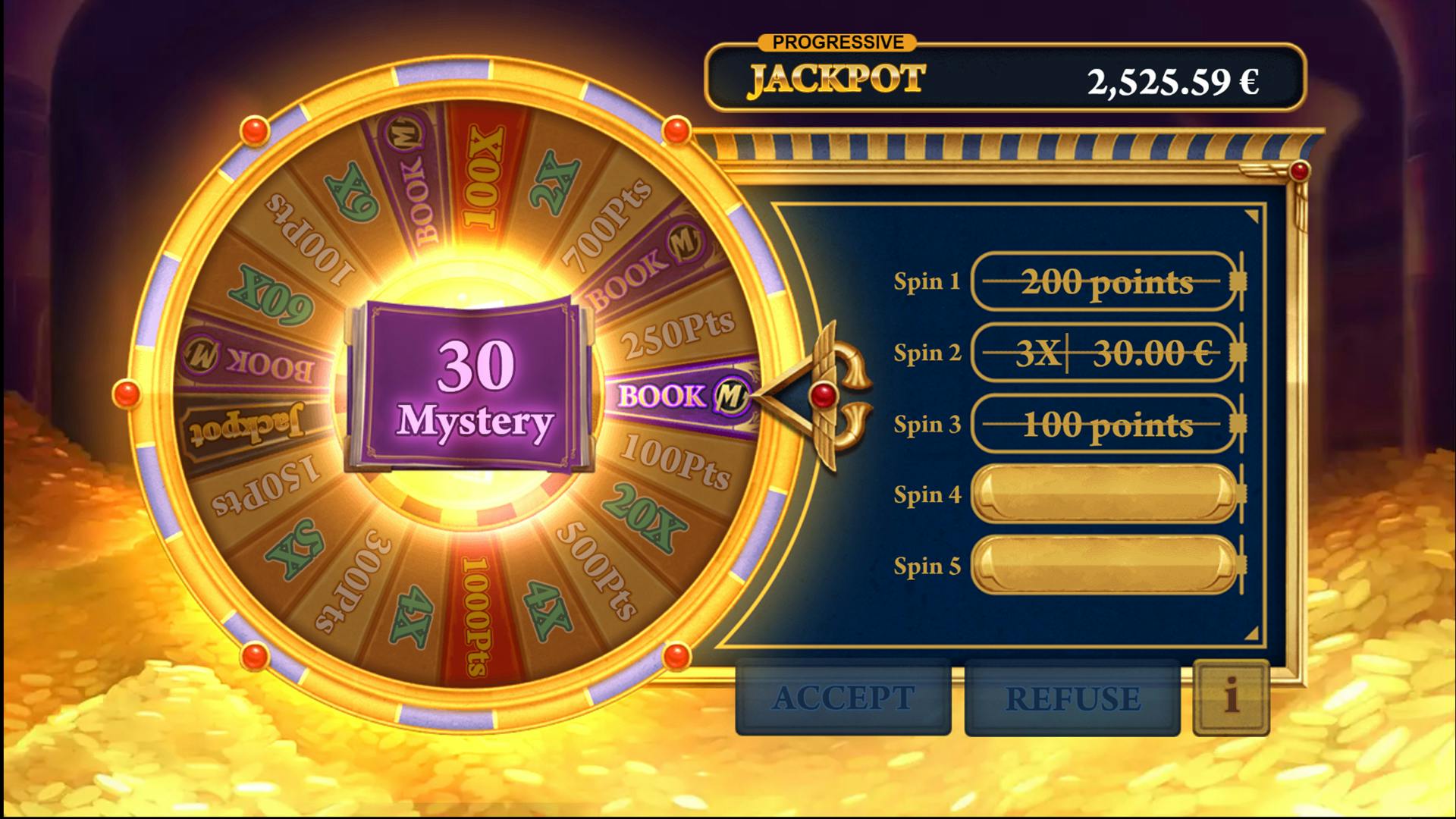 Spin the wheel to get a first price proposal. Once the wheel has completely stopped, you find your reward proposition in the rightmost segment. Accept the proposal to win the prize and close the bonus or refuse it to restart the wheel. Rejected proposals are transformed into book of mystery segments. You can spin the treasure wheel up to 5 times.
The book of mystery segment opens the sacred book of mystery. It comes alive and turns the pages until it offers an amount of 1 to 5 mystery or a big prize of 10 or 30 mystery.
The last proposal, the progressive jackpot or the winnings of 10 and 30 mystery are automatically accepted and close the bonus.
During the bonus game, the bet remains identical to the game that triggered the bonus.
Probability of the different winnings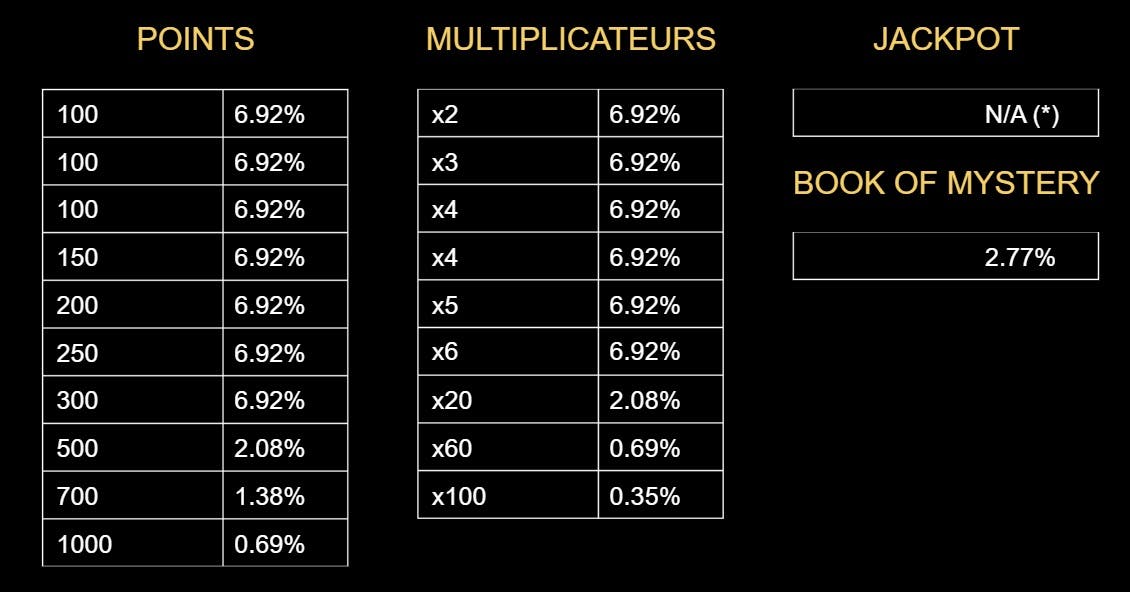 The sum of the points generated in each grid appears at the top of each grid and the total points of all the grids appear in the total points box.
At the end of the game, you earn the amount (gain) equivalent to the range of points reached and this is then added to your credits.
Align 3 bonus symbols in one of the grids and access the bonus game. In the bonus part you will win points or mystery games. Only one bonus can be triggered per grid.
Progressive jackpot
The progressive jackpot represents a pot shared between all players. To win it, spin the Egyptian wheel. If it lands on the "jackpot" segment, you win the amount of the split pot. It is automatically accepted and added directly to your credit.
The probability of winning the jackpot segment is linked to the jackpot system itself.
Redistribution rate: 96.00%
Bet Min : 0,25 €
Bet Max : 25,00 €