Airdice Mystery Burst Progressive Dice
Climb to a rooftop to enjoy the view, reach for the bonus that explodes with excitement, and win the Mystery Progressive Jackpot with dizzying payouts! BOOM!
How to play on Mystery Burst Dice ?
First, choose your bet using the SPIN button. Press START to start the game. Place the column of 3 random dice in one of the four boxes.
You earn points by placing 3 identical dice in a horizontal or diagonal line. Rare dice give higher rewards.
A minimum of 100 points is required to win a prize. Combine multiple lines and boxes for even more points. See the game's paytable for more information.
Progressive Bonus Mystery Burst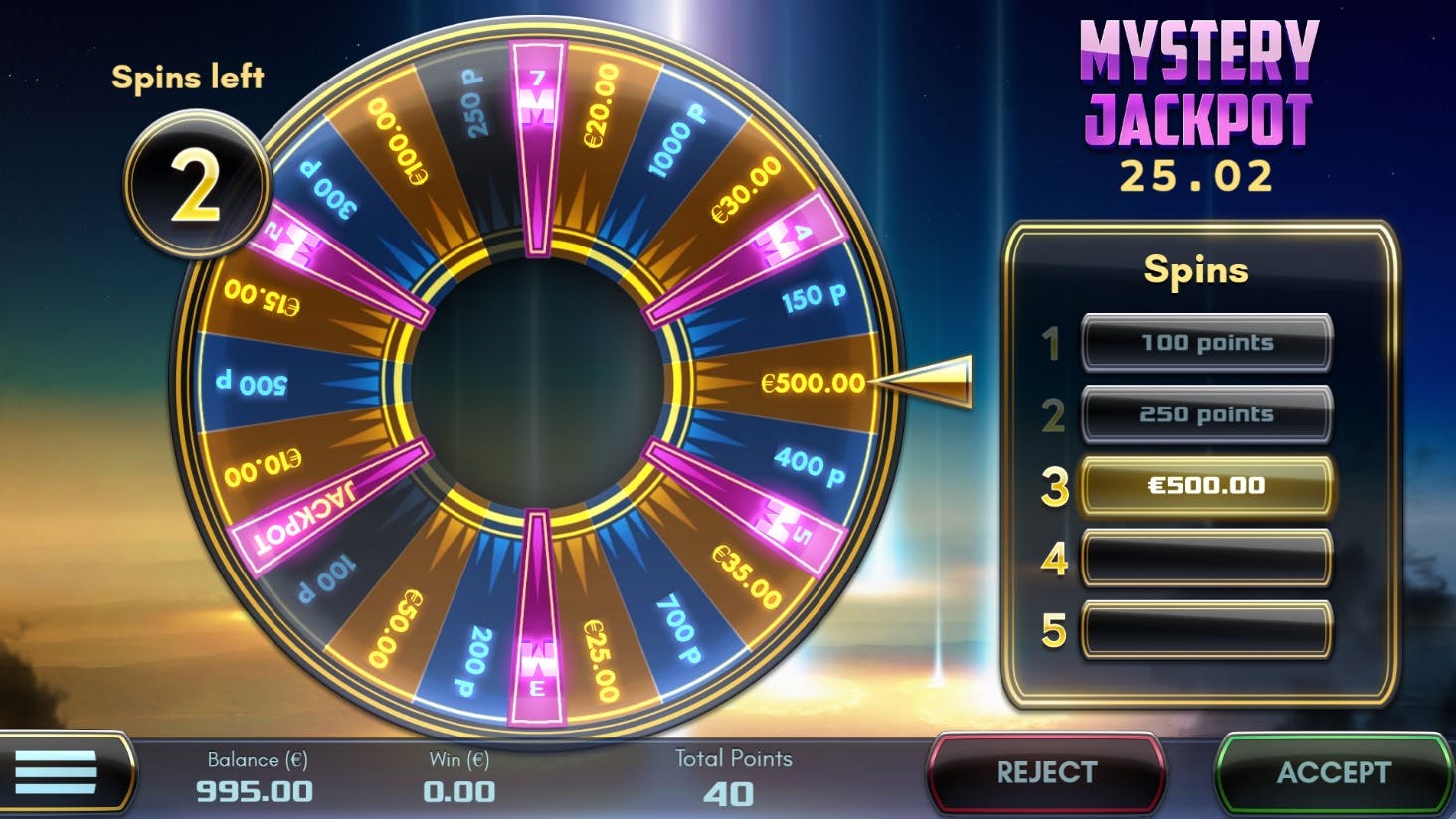 Shoot skyward and spin the wheel for a chance to land the ever-growing Mystery Jackpot! Earn up to INFINITELY from Mystery Games!
In this bonus feature, you spin the Mystery Burst bonus wheel. Sectors on the wheel include points, cash, mystery games 2, 3, 4, 5 and 7 and the huge mystery jackpot.
Once your spins have been used, the first result is automatically accepted. You can only accept one result.
Mystery Rounds Gameplay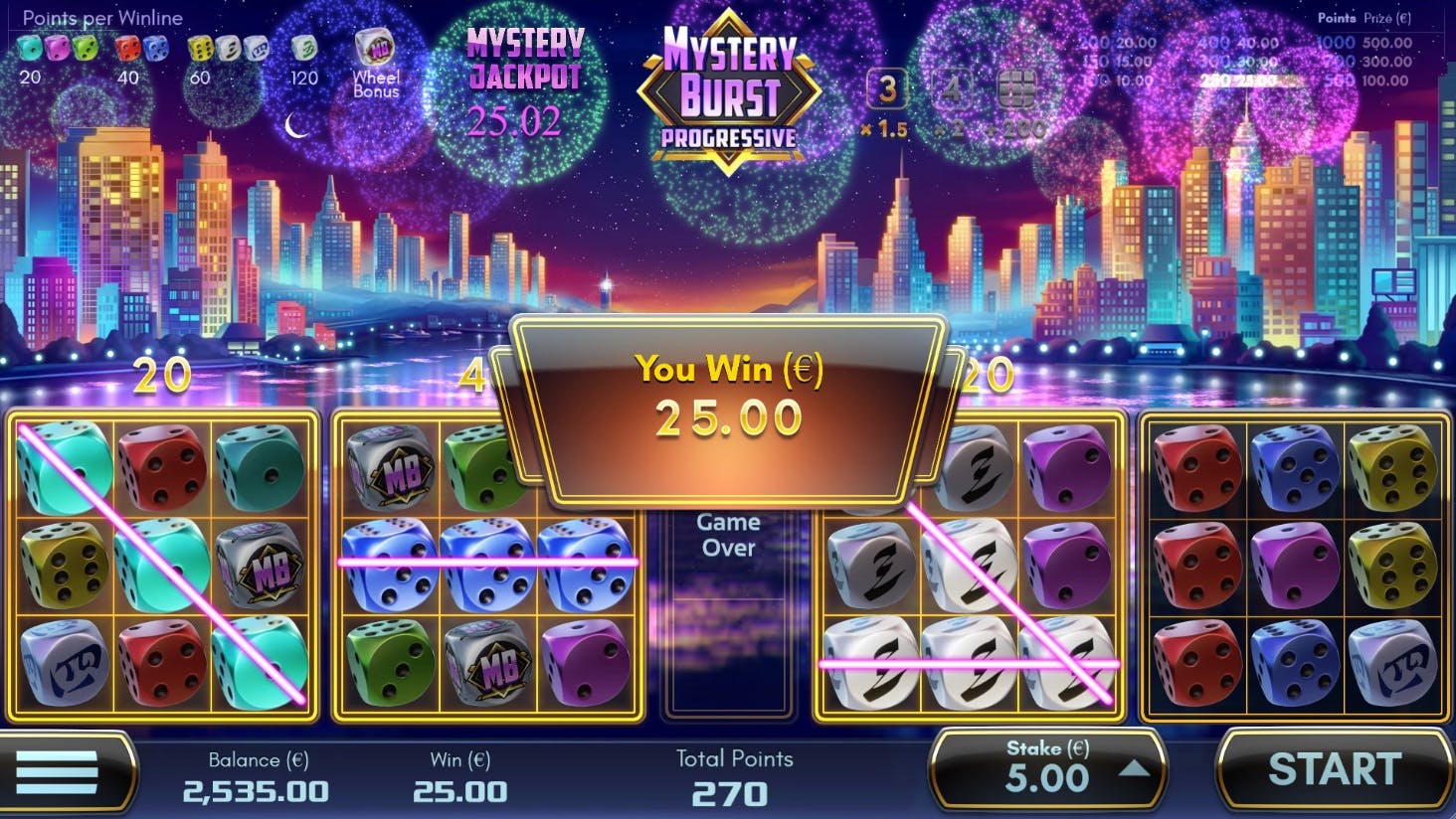 During mystery games, all prizes on the main game prize table become the maximum win, 100 times your stake.
You must reach the 100 point threshold to win. Mystery games do not affect cash prizes.
Mystery Jackpot
After each game round, the progressive mystery jackpot is increased if the pot is not won. Winning the jackpot offers a large number of mystery games.
After each win, the mystery jackpot is reset to a lower value.
- Game client: HTML5
- Type of game: dice placement
- Bonus Feature: Accept/Reject Wheel of Fortune, 5 Spins
- Mystery games: 2-7 Mystery Games in the bonus
- Stakes: 0.25€ to 5€ for the normal version, from 5€ to 25€ for the MAX version
- Jackpot: yes, progressive mystery pot
- Redistribution rate: 96.00% for the classic version, 97.00% for the MAX version
Our opinion about the Mystery Burst Progressive
Airdice games and their jackpots are very popular at Luckygames Casino and this new Mystery Burst game will add even more spice to the Airdice game offer at our casino.
With different versions, the classic version and the MAX version, all betting variants are available and all players will therefore find the shoe that suits them!
The design is impeccable, both beautiful and efficient without too many frills. The sound design is simple and not too intrusive, enough to have a good time relaxing.
With a redistribution rate of 96% to 97%, the winnings will always be motivating to try to access the bonus and win the coveted Mystery Jackpot. Depending on your bet, you could therefore win some nice sums!
Always the same observation for Airdice's wheel of fortune type games, too bad that the 'missed' winnings during the bonus round are not displayed once you accept an offer, this would have further increased the suspense.